All ages fun fishing and snorkeling at The Rock Bay of Islands
---
Want to find out more about the lovely time we spent cruising through the Bay of Islands?
---
Video Credit: Celia Chalmers
| | | | |
| --- | --- | --- | --- |
| Date: | Feb 20, 2019 | Passengers: | 3 |
| Skipper: | Nic | Weather: | Cloudy with overnight rain clearing |
| Crew: | Jake, Austin, Arthur, Marius, Celia | Wind: | E 10-15 |
| Overnight Anchorage: | Twin Lagoons | Snorkel Spot: | Palm Beach |
| Island Visit: | Roberton Island | Wildlife: | Snappers, Dolphins, Sand Dagger Wrasse |
Captain's log:
The sun was out, the sky was blue above us. We know it's going to be a beautiful day, but a little sad to bid farewell to our good friend, Taz. She graced us with her presence at The Rock NZ for around two weeks and all those time was rather magical immersing in the Bay of Islands with our crew and lovely guests. We like having interns onboard The Rock, they are such delight to work with, Taz and the rest of our previous interns here at The Rock Adventure Cruise will forever remain as part of our family.
Taz' last shift with us onboard was definitely one for the books. We accommodated 32 guests of all ages and personalities with different origins gathered in our charming houseboat. It was quite Before we kick off all the fun and adventures, The Rock Crew always give a quick brief about the rules and other protocols we observe here in the Bay of Islands. We explain our environmental advocacy and Tiaki promise to encourage our guests to have the same regard for our motherland, New Zealand. To spend 22 hours on an overnight cruise with like-minded individuals was truly amazing. We all shared the same admiration for nature and wanted to preserve it that way.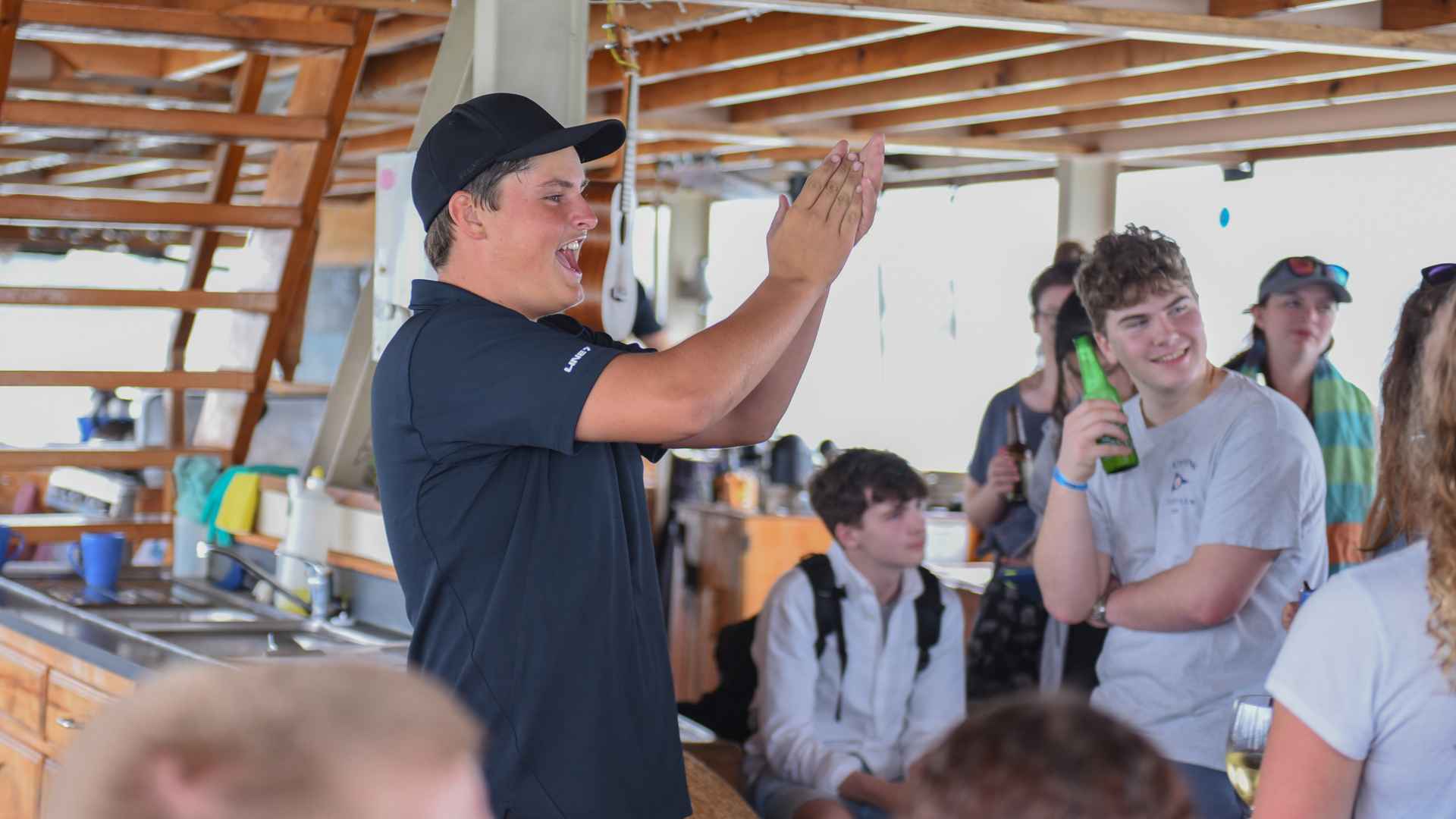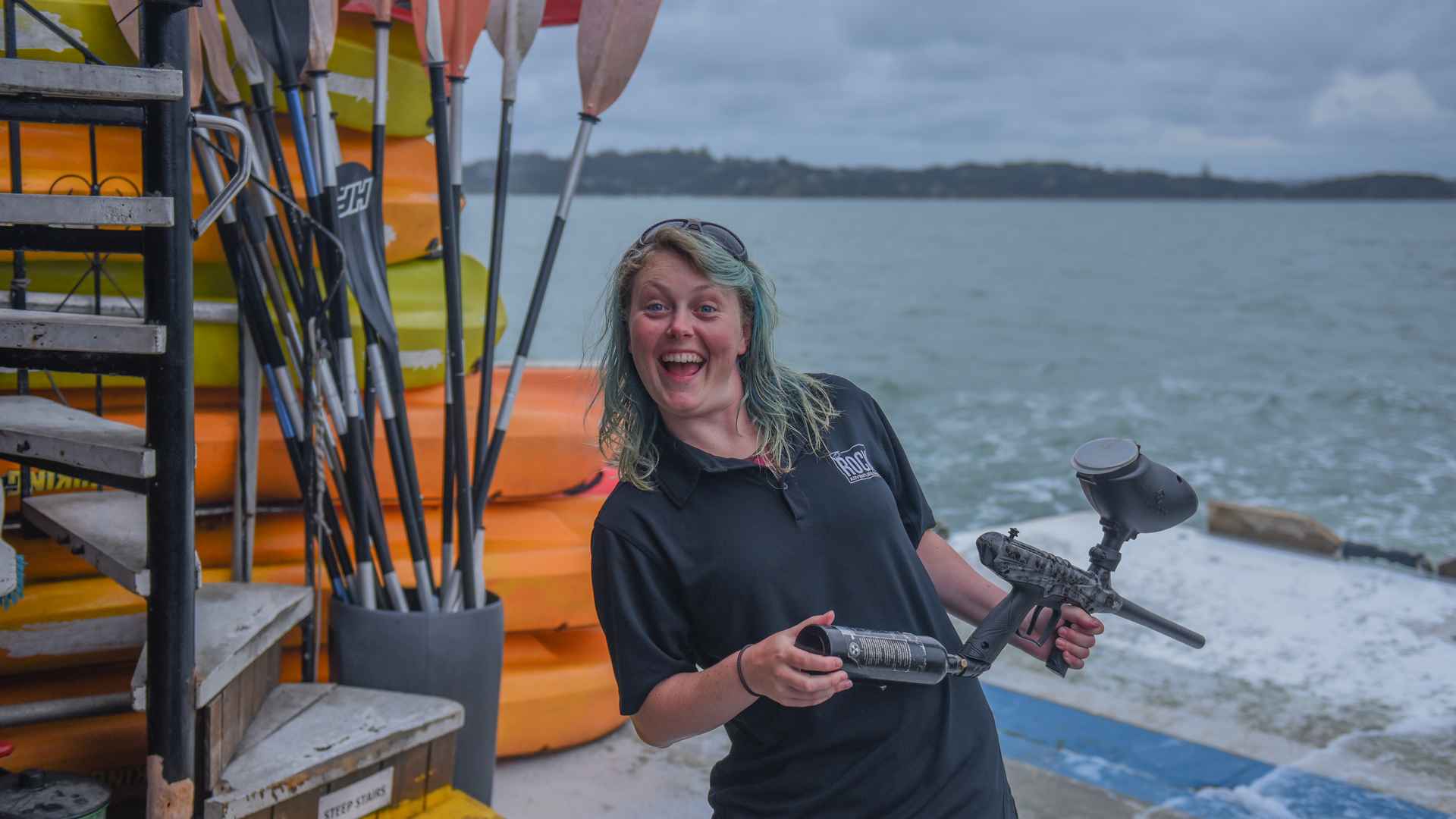 The guests quickly got comfortable with the crew and other guests. They seemed to have a lot of fun with our first set of target shooting, it's the best icebreaker game at The Rock. Other fun stuff followed after that, everyone was lounging by the deck, taking photos of the scenic bay, children playing board games, and adults sharing a few drinks. It was until we docked on our overnight location until we let out the fishing rods, fishing is best done at dusk time. The chance to catch your own food is one of the most fulfilling experience our guests from the big cities love. Fishing is quite easy to learn as long as you're willing to learn. It takes patience and a little endurance.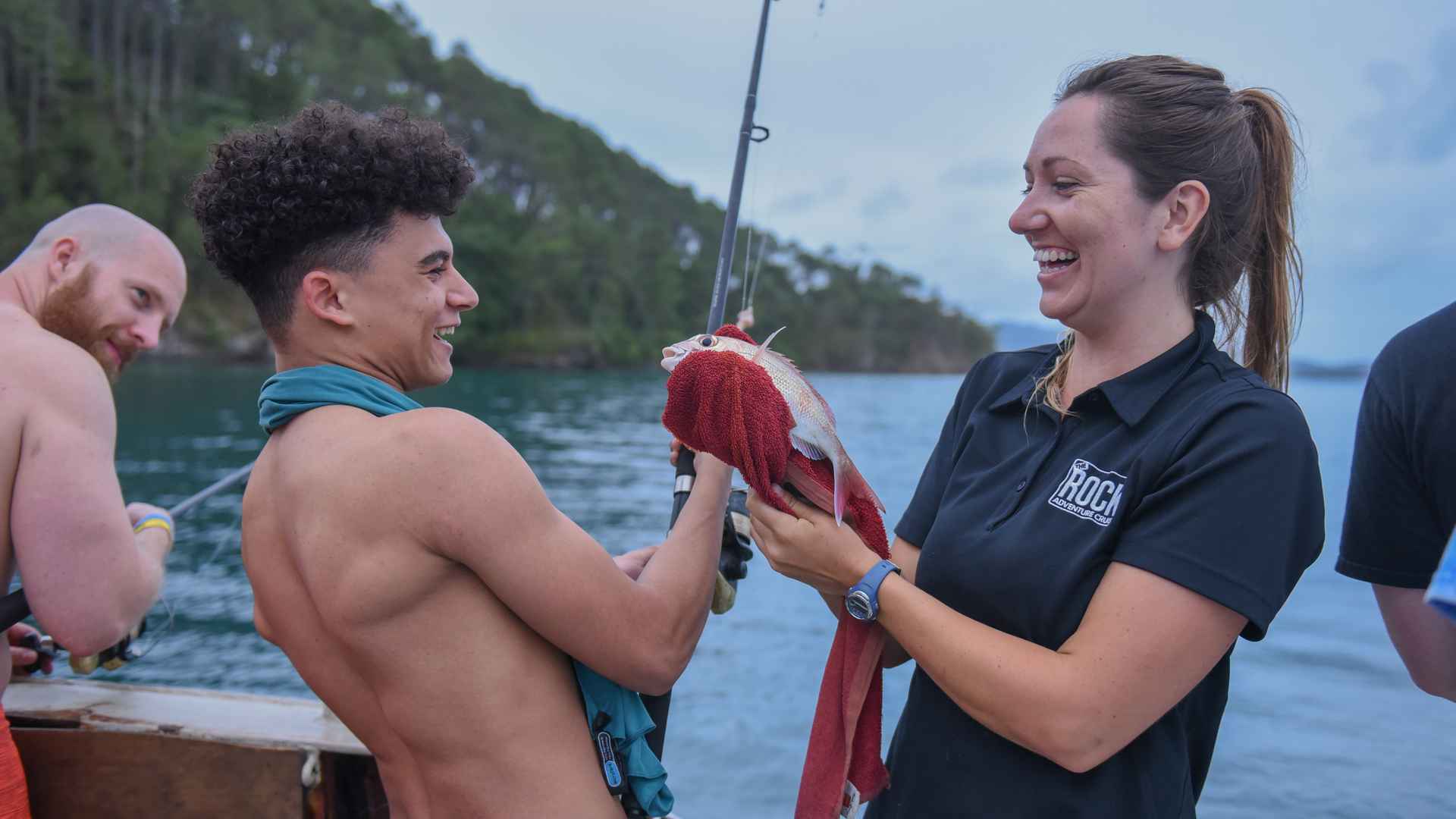 Our 22-hours on board was quite memorable for all of us. Who wouldn't have a blast surrounded by beautiful ocean views with amazing friendly faces paired with a fun crew?
The food prepared by the crew was very delicious. We had a usual Kiwi breakfast served with your choice of cereals, granola and bread. Then we had plates full of fresh slices of sashimi and barbecued fish from our fishing activity. Overall it was a really great cruise for all of us. ​

Snorkelling is another fun activity we did at Palm beach, our skipper plans where we dock for our activities depending on the weather and wind for safety reasons. At Palm Beach there is plenty of underwater life to explore, the guests also had a chance to feed some fishes. The brave guests jumped into the perfectly blue water from the back of the boat. We also saw dolphins swimming alongside The Rock, a pod of dolphins accompanied us while we're cruising back to Paihia. It was as if they were bidding us farewell from our Bay of Islands cruise, another highlight of our trip.
If you're planning a unique holiday experience with your friends and loved ones, The Rock Adventure Cruise is a perfect getaway. You get to spend a lot of quality time with them without having to think about what you need to do or what to prepare for food, The Rock will take care of everything for you.
Want to find out more about the lovely time we spent cruising through the Bay of Islands?
Check out the video above and book your cruise with The Rock Adventure Cruise!
"We had a nice trip with the "Rock" team. The trip was really pleasant and relax. We had sufficient time to do all activities. Having...
"This is a highly recommended cruise. The staff are welcoming and friendly that you don't feel you are among strangers. The Skipper Jonny is a gem of a...
"As soon as we docked after 26 fun hours on The Rock, my usually screen-addicted 13 year old declared "I wish we'd had a whole extra day"....
"We chartered The Rock for our engagement party and it was hands down the best 3 days of our lives. Jonny, Liam, Harley, Erin and all the crew were a gift!...
"Friendly crew, fun activities, meet new friends, kids were so enjoyed. Fishing, kayaking, hiking, snorkeling, you must experience this, we are coming back....
All Reviews