The Rock onboard Crew
---
Get to know our onboard crew! They're great fun, great at their jobs and make your time with us even more memorable. You'll love exploring the Bay of Islands with them to guide you.
---
Welcome aboard the Rock Adventure Cruise, where unforgettable experiences and thrilling adventures await you in the beautiful Bay of Islands! Our crew is a tight-knit group of individuals who are passionate about this stunning destination and dedicated to providing you with the most memorable trip of your life.
Let's introduce you to the amazing personalities that make up our crew!
Sean, Our Aussie Mate:
Meet Sean, our Australian mate who has fallen head over heels for the Bay of Islands. With a zest for life and a love for adventure, Sean is always ready to take you on an adrenaline-fueled journey. Whether it's snorkeling, diving, kayaking, or hiking, he knows all the hidden gems and secret spots in the bay. With his enthusiasm and encouragement, he will make sure your adventure is nothing short of extraordinary!

Teuarangi, The Local Kina Lover:
Affectionately known as Tee, she is a proud local from Paihia. Her passion for the Bay of Islands is unparalleled, and she can't get enough of the delicious kina (sea urchin) that the bay offers. Tee's delightful smile and welcoming personality instantly make you feel at home as soon as you step on board. She's the perfect host, ensuring your comfort and sharing her insider knowledge about the bay's history, culture, and must-see attractions.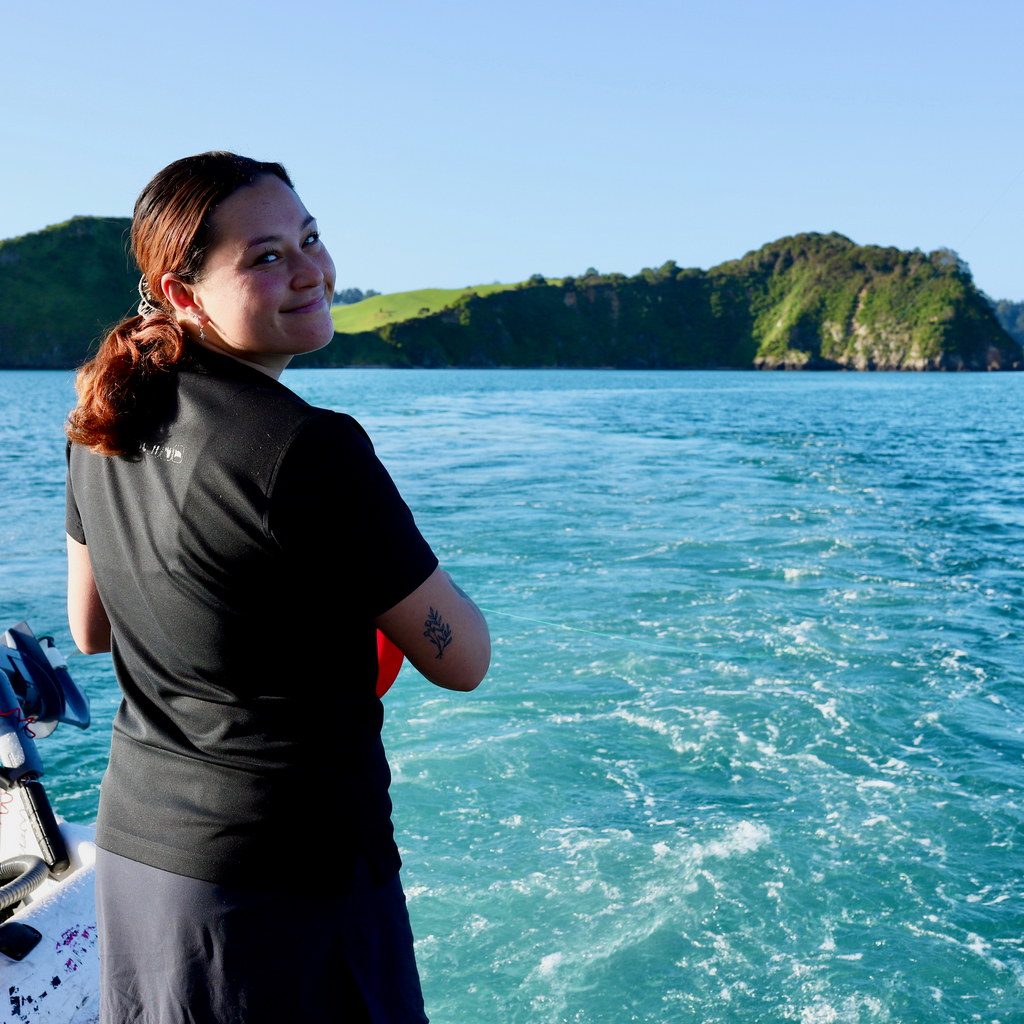 Tyran, Leilani & Otulea, The Teen Triple Threat:
Our crew wouldn't be complete without this dynamic trio of Tyran, Leilani, and Otulea. These three childhood friends have grown up together and bring a youthful energy and excitement to every cruise. During their summer and school holidays, they join our crew and infuse the journey with their infectious enthusiasm. With a shared love for the outdoors and the ocean, these three are always ready to create memorable experiences for everyone on board.

Tyran has recently finished school and has taken up fulltime employment. He first started crewing as a 14 year old, now in his 3rd season he's always happy to help out if the team needs a hand. A keen motorbike enthusiast, you'll find him riding tracks around Northland in his free time.
Leilani is in her 2nd season as crew. As her confidence has grown on board, so too has her confidence in all other areas of her life. Currently head girl at the Bay of Islands college and an avid sportswoman taking part in netball, rugby, waka ama and more.
Otulea has just completed his first season on The Rock. An keen sportsman, he lends himself greatly to rugby and league and is a House Captain at Bay of Islands College in 2023.
From heart-pumping water activities to beach games and nature exploration, these three guarantee an unforgettable time for guests of all ages. Their friendship and camaraderie radiate throughout the cruise, making you feel like a part of their extended family.

Embarking on a Rock Adventure Cruise in the Bay of Islands means not only immersing yourself in the natural wonders of this picturesque region but also being accompanied by a remarkable crew that adds an extra layer of magic to your journey. With Sean, Tee, Tyran, Leilani, and Otulea leading the way, you're in for an unforgettable adventure filled with excitement, laughter, and lifelong memories.
So, pack your sense of adventure and join our crew as we navigate the Bay of Islands, exploring its stunning landscapes, encountering marine life, and experiencing the warm hospitality that our crew provides. Get ready and book today for an epic adventure you'll cherish forever!
"It was amazing ending 2022 on the Rock! Authentic experience with friendly hostel/ family vibe. Weather wasn't the best but the adventures surely...
"Absolutely recommend!! Jonny, Erin, Otulea and Leilani really took care of us during our work Christmas doo.Nothing was too much to ask. Food - Amazing,...
"This was our second trip on The Rock Adventure Cruise overnight trip and it was just as amazing as we had remembered. This time we were able to take...
"I wanted to organise an overnight cruise in the Bay of Islands with a group of 25 friends and this was the absolutely PERFECT company to do it with! Jonny...
"We celebrated my partners 60th Birthday with 10 family on an overnight stay on The Rock Adventure What a fabulous time we had. Jonny and the crew make...
All Reviews