Dusk Fishing
Bay of Island Activities
---
Get a taste of the life in the Bay of Islands by fishing in its waters
---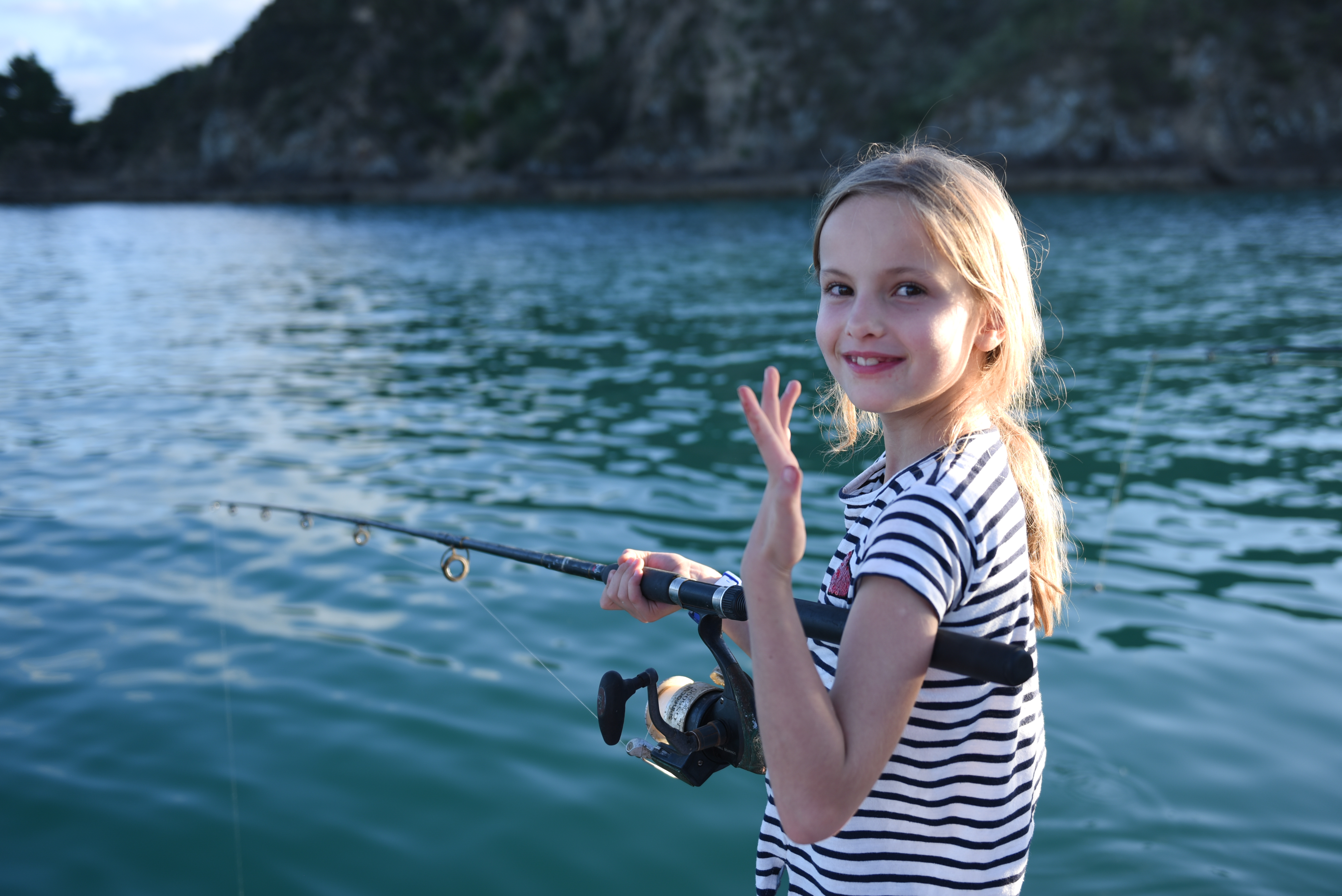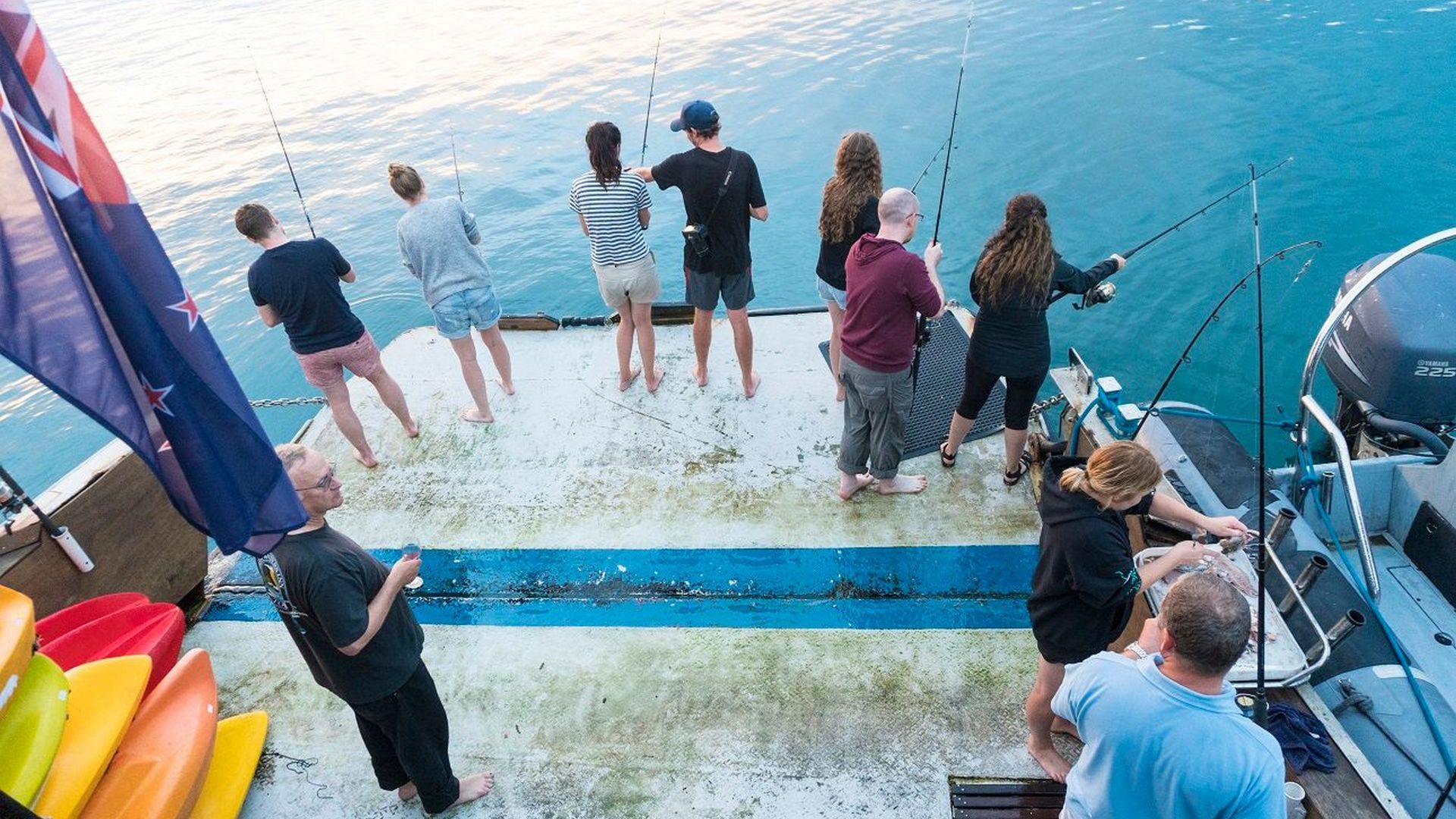 Known as a popular sport and a favorite past time, Fishing gets you closer than you could ever imagine to the wonders of nature and its different beautiful marine life.
Part of the activities on our first day of tours in the Bay of Islands is Dusk Fishing, allowing our guests to enjoy the beautiful scenery at sundown while learning a new outdoor skill. With an amazing backdrop of islands dotted around the Bay, dusk fishing in the crystal clear waters of the Bay of Islands can give you an intimate experience with the opportunity to fulfill an age-old need of pursuing and catching.
While it's fairly easy to lounge with a tackle and wait for a catch, discovering different thriving fish species and catching them is one of the thrilling parts of this activity. Snapper are popularly known as a handsome species, and super tasty to cook up for dinner. Fish like Trevally, Hapuku, Tarakihi, Kahawai, Kingfish, and Marlin also live here so you can catch them if you're lucky!
There is nothing better than getting a taste of your own catch. So to add up to that rewarding feeling, after giving your best efforts, our crew will prepare and serve them for you as long as it is within legal sizing. We hope you're open to some gastronomic adventure, a fresh catch guarantees an exquisite flavor, truly an extraordinary dining experience while cruising through the Bay of Islands.
The best months for Kahawai, Snapper, and Trevally are between the months of December and June, and from June to October, you'll find the best catch of Kingfish. These are some of the best months of the year to fish, so all you need to do is book with us and we'll take you to it.
As this activity requires minimum skills, guests of all ages can definitely experience the fun, and it's always more exciting for families when kids get their very first catch. Whether you're a seasoned angler or a newbie in fishing, there is a fish for you. And our crew would be glad to assist you all the way!
A catch may be the most rewarding part of the experience, but indeed, the thrill of a bite, the discovery of nature, and the immeasurable lessons along the way are what makes a memorable fishing experience.

Find out about our different types of cruises available and see which one fits you. Learn more about it here.
If you're interested in booking now, Click here.
"13/10 experience. Highly recommended for all ages and types of travelers. We all had a great time & are planning another trip soon."
"Anyone considering this, consider no more and just book it! This was one of my first experiences solo travelling up in the north after a tour and as...
"To start the crew aboard was absolutely fantastic and easy going. Just having them be the leaders of our stay made it very relaxed as if you were traveling...
"The crew are wonderful and swimming in the fluorescent algae was one of the most surreal and beautiful moments of my life. Highly highly recommended!"
"The entire tour from start to finish was incredible. There was a constant stream of activities and you could pick and choose what you wished to do. We shot...
All Reviews