Witness Marine Wonders In Nature
---
Inching towards sea in pursuit of raw beauty, the Bay of Islands is a place you can fall into its dreaminess, enwombed in its uniqueness. The Bay of Islands has many sightseeing sites enjoyable all year round that our guest definitely had a relaxin
---
| | | | |
| --- | --- | --- | --- |
| Date: | December 27, 2019 | Passengers: | 27 |
| Skipper: | Jonny | Weather: | Overcast, clearing to sun, Swell of long period but over 1m at times around Tapeka point |
| Crew: | Sam, Celia, Sierra, and Stephen | Wind: | Northerly sea breezes, variable 5 overnight SW developing again in the morning to 10 knots |
| Overnight Anchorage: | Electric Bay | Snorkel Spot: | Palm Beach |
| Island Visit: | Waewaetorea Island | Wildlife: | Lots of penguins |
Skipper's Log:
Around 5:15 pm from Paihia, we're completely ready to underway to start our cruise onward the Bay of Islands. Headed to our overnight anchorage at Electric Bay with The Rock Adventure Cruise and crew members, Sam, Celia, Sierra, and Stephen are cruising with us today for another awesome Kiwi experience in the Bay of Islands. Sam did a lot of the talking introduced the whole crew, the places which command a superb view of the ocean, the perfect locations to visit to get away from the bustle and heat from the city. There are a bar and grill that will take care of our guests' food and beverages desires, be it a tasty food lunch, an ice-cold beer, or locally sourced tropical cocktail.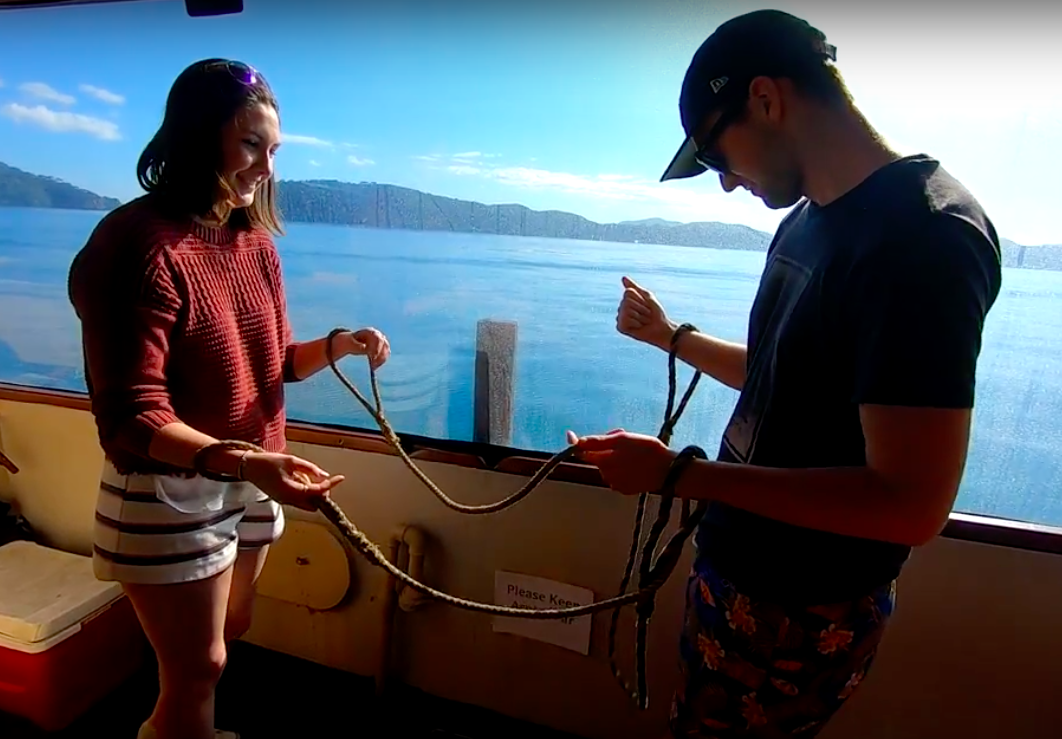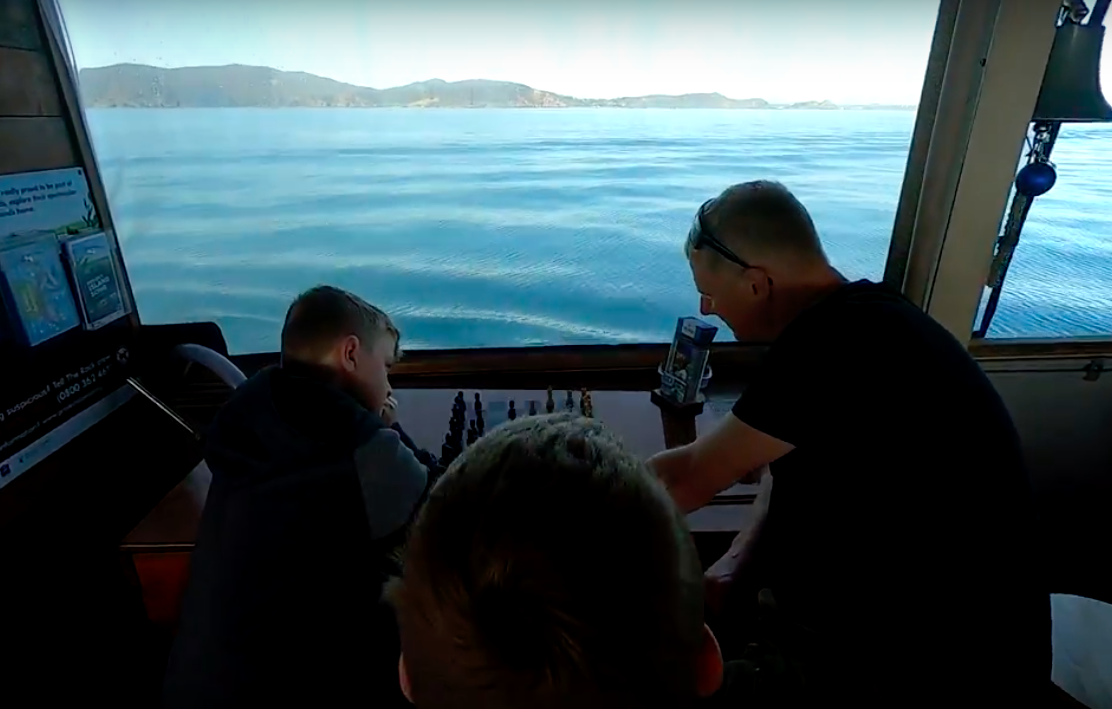 What a different feel from the night before! All families and couples, plus Nicola who was a confident young lady, joined right in. Max was full of energy, Sam played to connect with him and other games. The Next day and other family plus a group of two couples based in Warkworth originally from SA and totally made a home here in NZ. I think the fact that Chen and Xinzheng took the time to translate one of our signs into Chinese for us - and had very tactfully pointed out that our current translation needed changing fast! We allow them to enjoy dusk fishing at sundown in the beautiful scenery and crystal clear waters get fully equipped and ready our gears and, and met their instructors. The Bay of Islands has many sightseeing sites enjoyable all year round that our guest definitely had a relaxing. To see what is happening underwater but with great visibility in the Palm Beach, overcome some challenges around confidence in the water coming face-to-face with hundreds of dazzling local fish species. Offering complete tranquility and seclusion, Palm Beach has been chosen to intricately blend into the natural surroundings of the Bay of Islands and is simply one of New Zealand's most iconic reefs and beaches.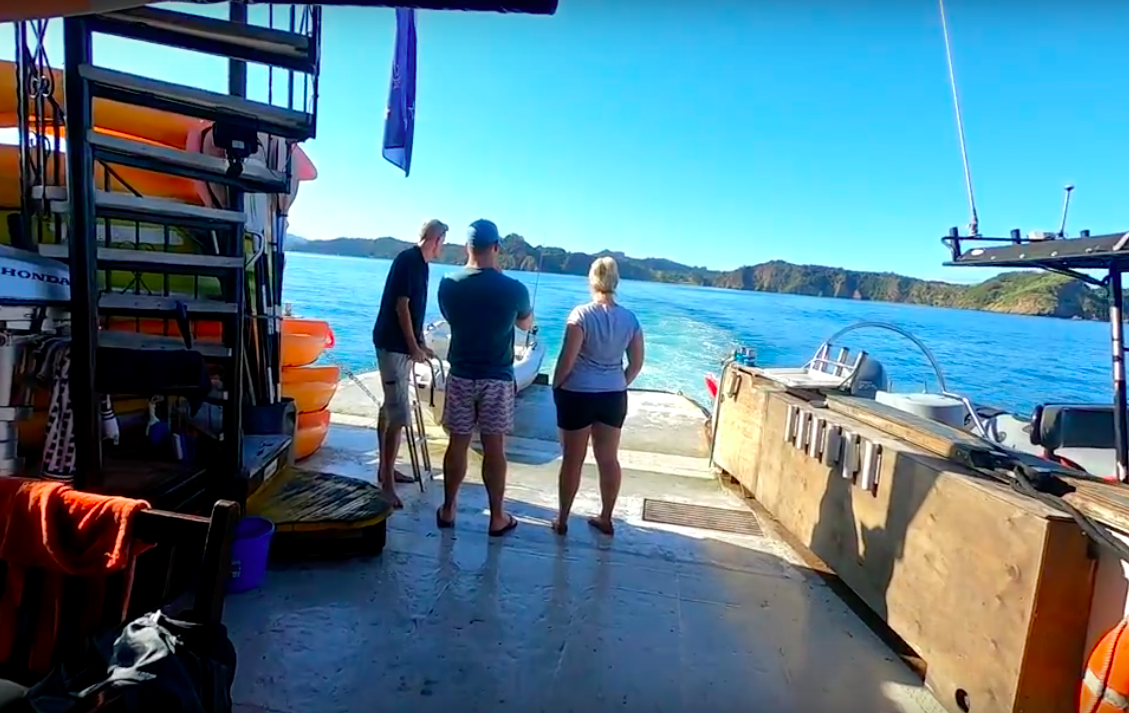 The crystal clear water has once stunned the guests and lots of penguins were seen in the area. The presence of a rare species like this is a sign that the ocean ecosystem is still in good condition. It is a favourite place for people to dive and snorkel in because of the magnificent coral reefs underwater. We are missing dolphin sightings recently, however, the Orca has been around often, so this is usually the case that they keep a low profile. They often cruise at the surface, spouting every few seconds as they swim. The black back, white eye patch, and striking triangular dorsal fin (in the centre of the whale's back) are characteristics of the killer whale. This is a once in a lifetime opportunity to witness one of the wonders of the marine world in the wild natural habitat.
Not only were the underwater beauties that will hypnotize you, our guests stunned by the vast white sandy beach. Our destination for the second day was Waewaetorea Island. In a safe and secure environment during a full-day, our boot camp continued with an island walk and a beach cleanup. The great outdoors was an awesome trekking experience. Our team did a great job to provide service, food, equipment, and a great wildlife photography opportunity. It was truly a great experience and the best service on a trekking adventure.
The islands boast of not just great diversity of extraordinary species, but also of a huge variety of undersea features such as deep canyons, large kelp forests, volcanic reefs, caves, and pinnacles, which will surely leave a lasting impression to our guests. Want to find out more about the lovely time we spent cruising through the Bay of Islands? Book your cruise now.
"Awesome crew!!! Highly recommend The Rock Adventure!! Had our brothers surprise birthdays and the crew were ON!!! Views for days!! Loved the whole trip!!"
"Sea adventure, Fun activities and hiking... Complete package.. All seasons... Highly recommended... Awesome crew and magnificent skipper... For young and...
"Thank you so much for the amazing experience! We have enjoyed our cruise so much! Kids are so happy and as too! We have learned so much within two days!...
"Amazing experience with the rock cruise!!!! Thanks for having us! It's such an unforgettable experience, for those who hasn't try before,...
"As soon as we docked after 26 fun hours on The Rock, my usually screen-addicted 13 year old declared "I wish we'd had a whole extra day"....
All Reviews