Joint Cruise from Paihia to the Bay of Islands
---
Thank God it's Friday! A total of eleven passengers joined us on board for our joint B&B Cruise and Overnight Cruise.
---
Cruise Log: The Rock Adventure Cruise, Bay of Islands, Feb 15th 2019
| | | | |
| --- | --- | --- | --- |
| Date: | Feb 15,2019 | Passengers: | 11 |
| Skipper: | Timo | Weather: | Sunny with a 0.5m Swell |
| Crew: | Jake, Austin & Celia | Wind: | South going Easterly 25 knots |
| Overnight Anchorage: | Waipohutukawa bay | Snorkel Spot: | North okahu |
| Island Visit: | Palm Beach | Wildlife: | Kahawai, Sand Dagger Wrasse, School of Jack Mackerel |
Video Credit: Celia Chalmers
Thank God it's Friday! A total of eleven passengers joined us on board for our joint B&B Cruise and Overnight Cruise.
The night was calm as we headed to Cooks Cove for a nice night swim to cool off the sunny day. We were greeted by a beautiful sunset perfect for dusk fishing, our guests were delighted by their successful fishing experience, unfortunately, none of the fish caught were big enough to be served for dinner.
Our crew managed to catch a mid-sized Kahawai fresh from the water, although it's a little bit tricky to catch one because of its aggressive nature once it's hooked it went straight to the kitchen. Thinly cut, placed on ice with soy sauce and wasabi. Our passenger Sue had her first Sashimi experience ever, our crew was happy to share the moment while out on the water. A Friday night well spent indeed!
The next morning our B&B group joined the rest of the group for a hearty Kiwi breakfast, which is traditionally served on board. We were left with four passengers filled with excitement as they carried on their day cruise adventure.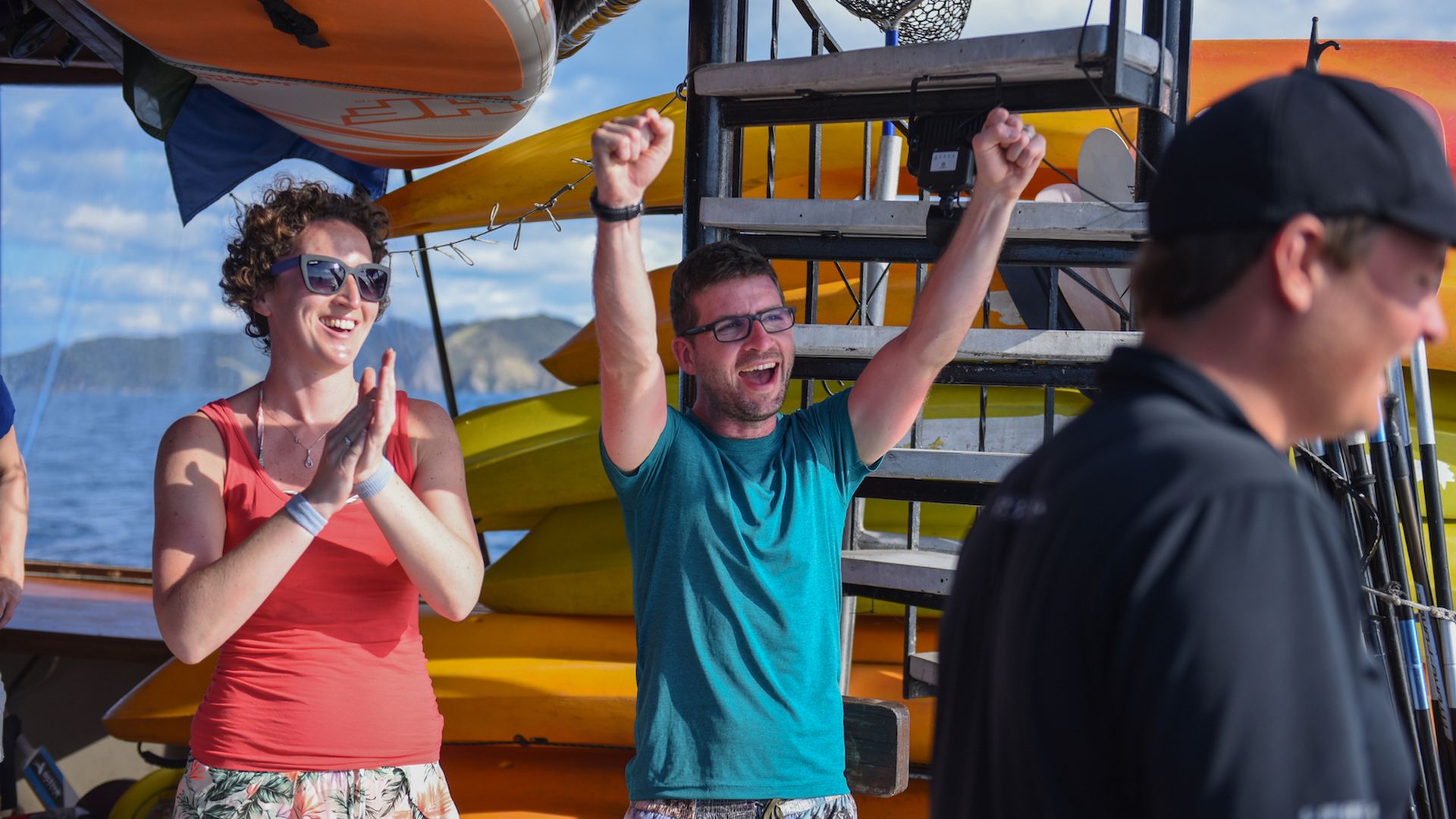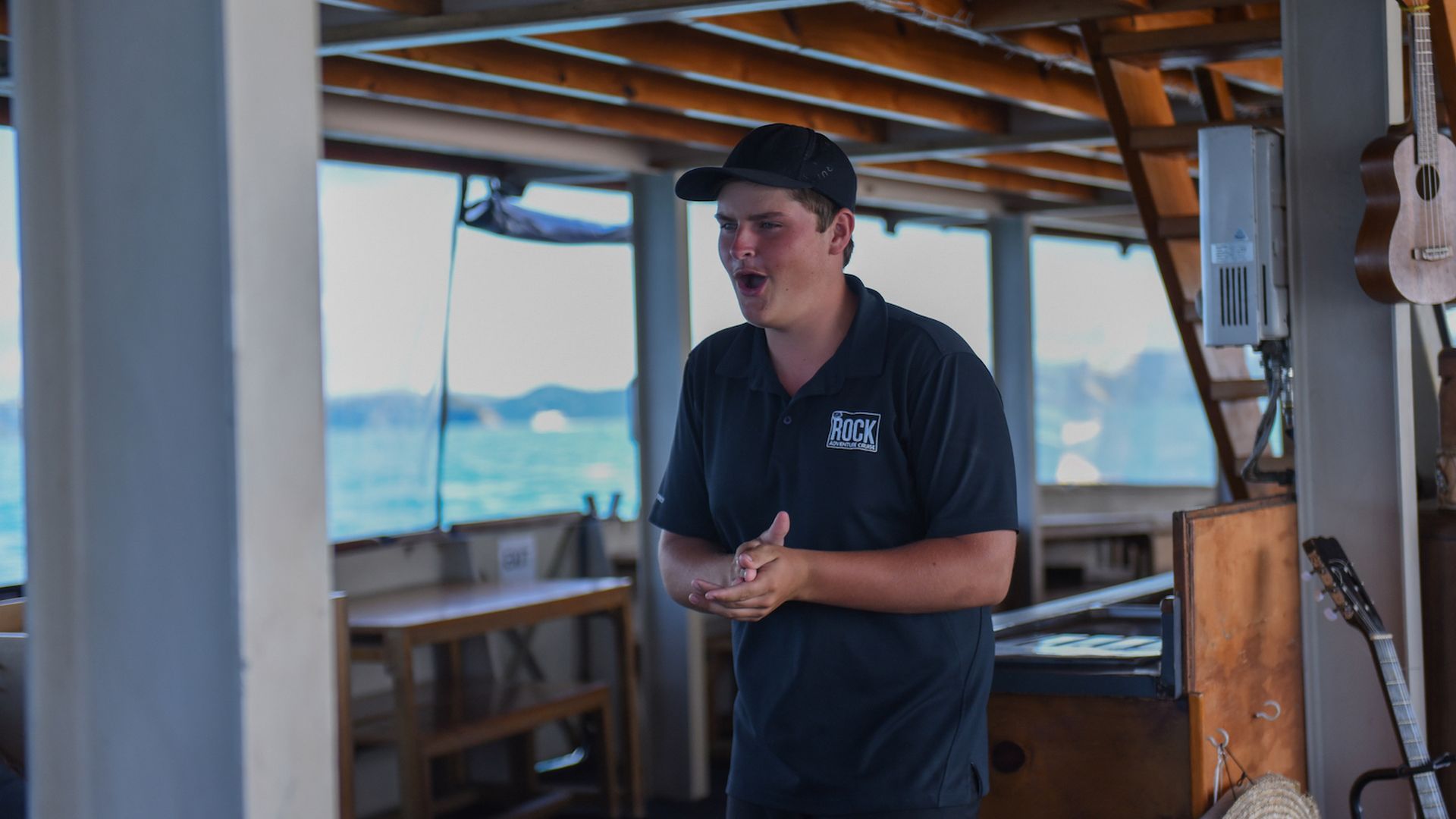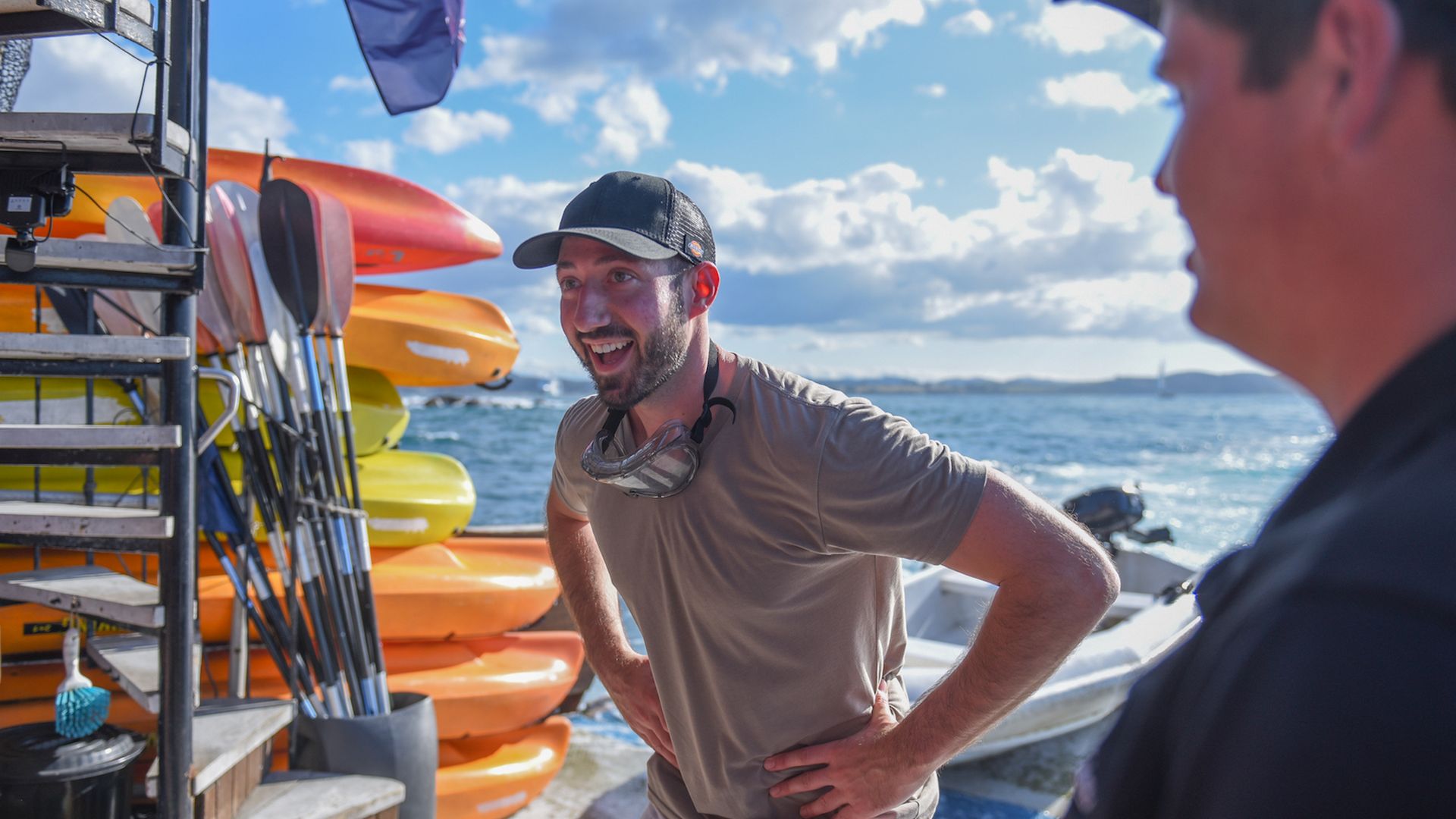 Due to the weather conditions, we sailed towards North Okahu and anchored for some snorkeling and underwater fun as we got up close and personal with some Sand Dagger Wrasse, Kahawai and a school of Jack Mackerel. After a few refreshments, everyone was giddy as we cruised towards Palm Beach, the weather finally cooperated until we reached our next destination. The four members of our Day cruise was greeted by a nice view at the top of their Island Walk together with Cecilia, Rock the Boat's master photographer, who captured these moments.
As we cruised our way back to Paihia port, everyone devoured the delicious Smoked Butterfish with a satisfied look on their faces.
Do watch the video above to see the highlights of Rock Adventure Cruise last February 15,2019.
"Amazing experience with the rock cruise!!!! Thanks for having us! It's such an unforgettable experience, for those who hasn't try before,...
"We chartered The Rock for our engagement party and it was hands down the best 3 days of our lives. Jonny, Liam, Harley, Erin and all the crew were a gift!...
"Friendly crew, fun activities, meet new friends, kids were so enjoyed. Fishing, kayaking, hiking, snorkeling, you must experience this, we are coming back....
"Awesome crew!!! Highly recommend The Rock Adventure!! Had our brothers surprise birthdays and the crew were ON!!! Views for days!! Loved the whole trip!!"
"We had a nice trip with the "Rock" team. The trip was really pleasant and relax. We had sufficient time to do all activities. Having...
All Reviews