Fishing and observing dolphins in the bay of islands
---
Great experience fishing and observing the dolphins in their natural habitat
---
Skipper's Report
| | | | |
| --- | --- | --- | --- |
| Date: | December 5, 2019 | Passengers: | 14 |
| Skipper: | Jonny | Weather: | |
| Crew: | Sam, Nicole, Celia | Wind: | NW15 (20) going SW less than 10 overnight |
| Overnight Anchorage: | Assasination Cove | Snorkel Spot: | Mussel Rock |
| Island Visit: | Warwaetorea Island | Wildlife: | Lots of penguins |
At exactly 5:10 pm from Paihia, we're completely ready to underway to start our cruise onward the Bay of Islands. Headed to our overnight anchorage at Assassination Cove with The Rock Adventure Cruise and crew members, Sam, Nicole, and Celia are cruising with us today for another awesome Kiwi experience in the Bay of Islands.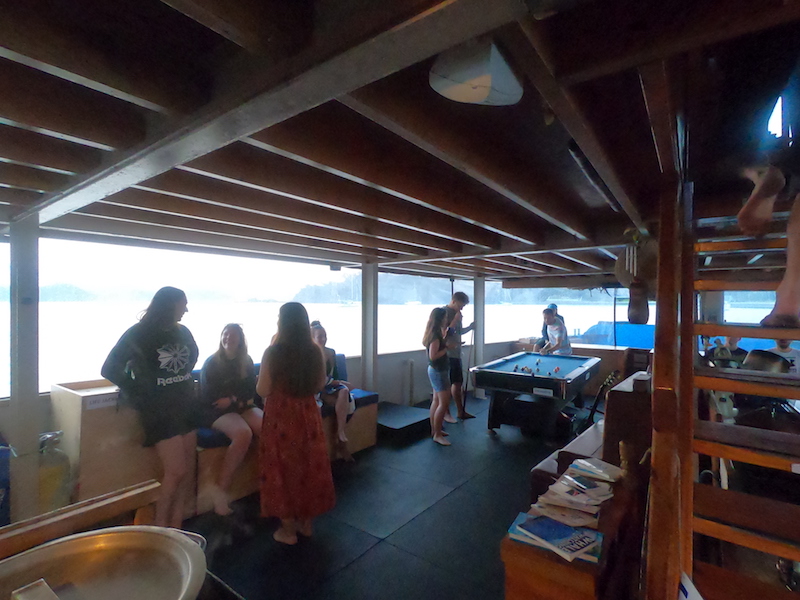 Sam did a lot of the talking introduced the whole crew, even more so than normal as I had lost my voice and could not speak loudly. But, there was some trepidation felt from the guests as what to expect, I think a few pictured a 'cruise' as being for oldies and were pleasantly surprised with the atmosphere we create. We allow our guests to enjoy dusk fishing at sundown in the beautiful scenery and crystal clear waters of the Bay of Islands. We are the best months of the year to fish, together with The Rock Crew everyone worked well encouraging the guests to unlock their confidence and get into the water activities. We get fully equipped and ready our snorkeling gears and, everyone met their instructors. For first-time snorkelers, it was just overwhelming to see what is happening underwater but with great visibility in the Mussel Rock, we coming face-to-face with hundreds of dazzling local fish species, the team worked seamlessly together. It was great to see a few overcome some challenges around confidence in and around water which is always great to see.
The warm water is coming, it had been a wonderful sail across the relatively open waters into Assassination Cove assuring the tranquil of the night at anchor. We provided baits and the needed fishing gears necessary for all our lucky guests an additional fresh catch to add in our delicious dinner menu. Some good hits of kahawai and a blue mackerel are just tasty treats from the bottom of the ocean to our dinner plate. Dusk fishing in the boat left them with the experience closer than they could ever imagine to the wonders of nature and its different beautiful water creatures.
We had a rare opportunity to observe penguins in their natural habitat. Although you may spot penguins randomly along the coastline at dusk, a lot of penguins come home after a hard day's fishing at the ocean. They fly high over the sea, scanning for fish from up to 30 meters above the surface, before making spectacular dives. They fold their wings to speed up, often traveling faster than 100 kilometers per hour when they hit the water. With the unspoiled environment of the Bay of Islands provides a safe habitat for many of these native bird species. Predator-free islands such as Motukawanui Island and Moturua Island are home to many rare and endangered species. in the water, they take on a new grace, diving and swooping with acrobatic agility.
Our destination for the second day was Warwaetorea Island, one of the word-class beaches allowing our guests to enjoy kayaking, paddle boarding, and snorkeling in the crystal clear waters and exotic underwater view on our way to the island. My favorite part was assisting one guest overcoming a fear of open water, in particular watching the onboard teamwork flawlessly together to ensure the guests gained the confidence and felt secure in trying something outside the box which they may have never tried. In a safe and secure environment during a full-day, our boot camp continued with an island walk and a beach cleanup.
It was quite warm as we took off, the chance to travel with a group of like-minded individuals who love the great outdoors was an awesome trekking experience. Our team did a great job to provide service, food, equipment, and a great wildlife photography opportunity. It was truly a great experience and the best service on a trekking adventure.
The islands boast of not just great diversity of extraordinary species, but also of a huge variety of undersea features such as deep canyons, large kelp forests, volcanic reefs, caves, and pinnacles, which will surely leave a lasting impression to our guests. Want to find out more about the lovely time we spent cruising through the Bay of Islands?
Check out the video clip above to get a glimpse about happenings aboard The Rock Adventure Cruise!
"Spent three days on the boat with friends and had an incredible time! The Rock has good food to keep you fueled for the wide range of activities -...
"We chartered The Rock for our engagement party and it was hands down the best 3 days of our lives. Jonny, Liam, Harley, Erin and all the crew were a gift!...
"This is a highly recommended cruise. The staff are welcoming and friendly that you don't feel you are among strangers. The Skipper Jonny is a gem of a...
"Amazing experience with the rock cruise!!!! Thanks for having us! It's such an unforgettable experience, for those who hasn't try before,...
"We had a nice trip with the "Rock" team. The trip was really pleasant and relax. We had sufficient time to do all activities. Having...
All Reviews