What's January Weather Like in the Bay of Islands?
---
Know what to expect in January weather!
---
WHAT'S JANUARY WEATHER LIKE IN THE BAY OF ISLANDS?
Bay of Islands is situated in the northern part of New Zealand. You can get to the Bay of Islands via land through Auckland; it takes approximately 3 hours depending on the traffic to reach Paihia or also known as the gateway to the Bay of Islands.
Having over 144 islands, the Bay of Islands makes a great summer destination in New Zealand.
If you're travelling to the Bay of Islands in January remember It's the most popular month to visit New Zealand (with many travellers choosing Paihia and The Rock Adventure Cruise!) for a reason. It's the height of summer with long beautiful hot days, and loads of amazing activities to get your adventure juices flowing. You can go mountain biking, check out the beautiful Waitangi museum or make the most of your stay and go for an overnight cruise at The Rock!
Unlike in the Northern Hemisphere, January falls in the middle of summer in New Zealand. It's the perfect time to do all the "summer" activities in and on the water, island walks or even just kicking back in the sun with a glass of wine – all of which we provide! For more information, have a look at our guide to Bay of Islands Seasons and Climate.
OUR LOCAL TIPS WHEN VISITING BAY OF ISLANDS IN JANUARY
Here are a few handy tips we reckon you should know to be best prepared for your trip in January.
1. WEAR SUNSCREEN!! Wear sunscreen before exposing yourself to the sun and reapply often. The rays beaming upon you are not to be messed with, even on cloudy days you're likely to get sunburn during summer.
2. SCHOOLS OUT - It's summer school holidays for the locals and a very popular time with international travellers coming to visit so be sure to book your activities, transport and accommodation as far in advance as possible to maximize your stay and avoid potential inconvenience.
3. SANDFLIES APLENTY - Make sure you carry an insect repellent with you. Summer is the high season for these pesky little critters, which can leave unsightly itchy bites.
4. BETTER TO BE SAFE THAN SORRY - Carry an extra layer of clothing (a light long sleeve shirt/jumper) when you're out and about. Even in January, the weather can change suddenly - bless our crazy all the seasons in day weather patterns!
5. WANT TO AVOID BIG CROWDS? Book an Overnight Cruise with us on The Rock and experience a range of activities in a smaller group as we can host a maximum of 40 guests per trip.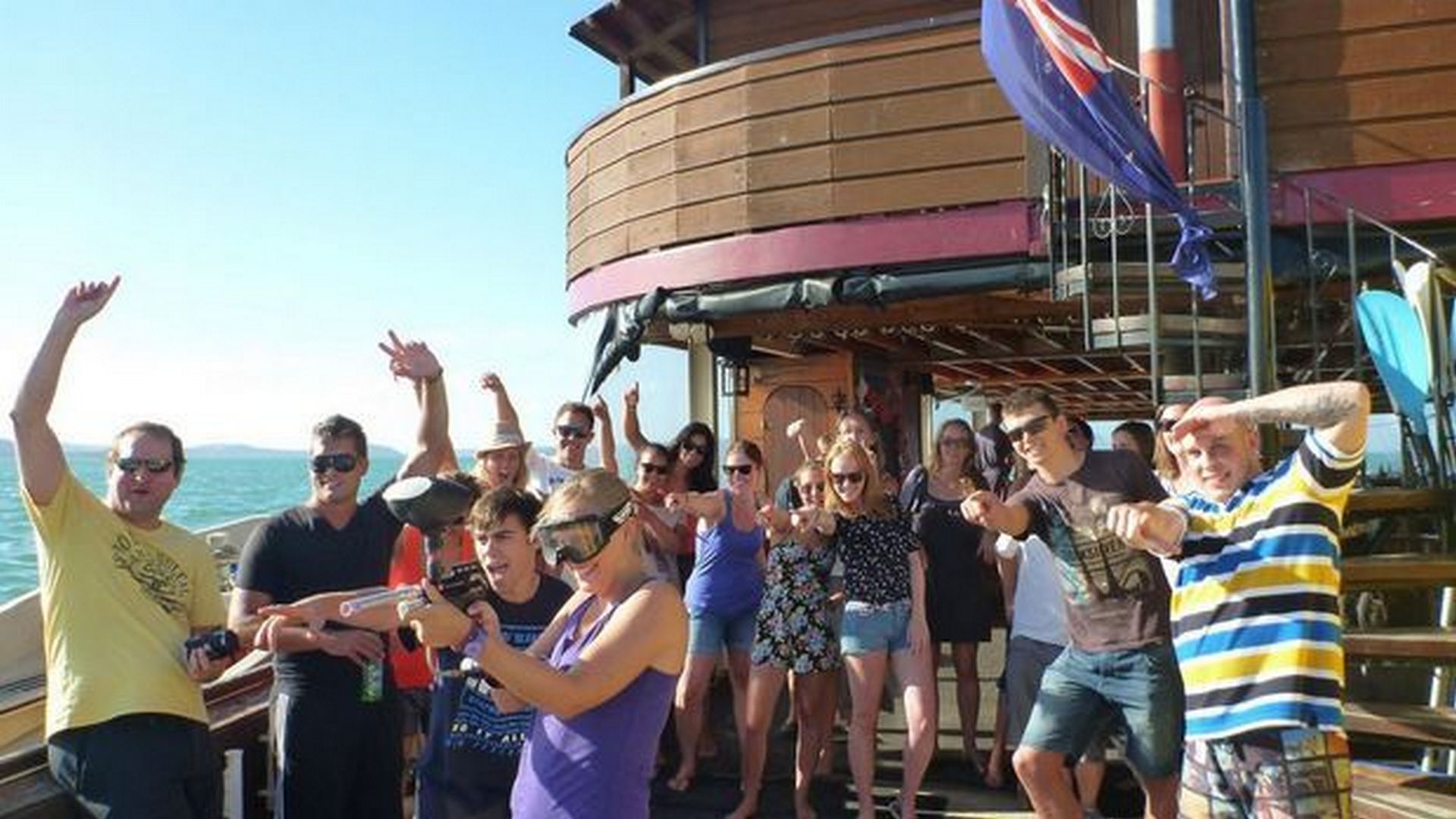 TEMPERATURES IN JANUARY
If warm weather is what you're looking for when coming north to the Bay of Islands, New Zealand then January is the perfect month as it's the height of the summer. Temperatures can get as high as 30°C and reaching lows of only around 12°C.
Average Bay of Islands (Paihia, Russell, Opua, Waitangi, Kerikeri) – 20°C / 68°F
WEATHER PATTERNS IN JANUARY
The weather in January is pretty predictable and consistent compared to other months of the year. We usually have long periods of sunny spells but rain will happen occasionally. We have daylight saving here so daylight hours are long in January with the sunrise around 6am and sunset around 9pm.
RAINFALL IN JANUARY
January is usually the driest weather with the slightest chance of rain.
Average Bay of Islands (Paihia, Russell, Opua, Waitangi, Kerikeri) – 90mm
JANUARY PACKING LIST
Find out what to pack for an Overnight Cruise on The Rock
"Thank you so much for the amazing experience! We have enjoyed our cruise so much! Kids are so happy and as too! We have learned so much within two days!...
"This is a highly recommended cruise. The staff are welcoming and friendly that you don't feel you are among strangers. The Skipper Jonny is a gem of a...
"Friendly crew, fun activities, meet new friends, kids were so enjoyed. Fishing, kayaking, hiking, snorkeling, you must experience this, we are coming back....
"Awesome crew!!! Highly recommend The Rock Adventure!! Had our brothers surprise birthdays and the crew were ON!!! Views for days!! Loved the whole trip!!"
"As soon as we docked after 26 fun hours on The Rock, my usually screen-addicted 13 year old declared "I wish we'd had a whole extra day"....
All Reviews