Cockles | Tuangi
Marine Life
---
A Kiwi classic heart shaped shellfish
---
Aside from the marvellous natural wonders that New Zealand has to offer, it is also home to fantastic local delicacies. The New Zealand Cockles or New Zealand Little Neck Clam are heart-shaped saltwater bivalve molluscs often likened to clams. Unlike clams, Cockles are smaller shellfish with succulent and briny taste, versatile for any type of cuisine. Known locally as its Maori name Tuangi, Cockle dishes are a kiwi classic.
Living near the coast has its perks. The Rock Adventure Cruise is located in the heart of Bay of Islands, where we have year-round access to shellfish and other kinds of seafood. Like any other types of shellfish, Cockles live in sandy or muddy areas of the coast where they can burrow. They play an integral part in filtering water and maintaining the ecosystem of estuaries.
Cockles health benefits
Most shellfish are low in carb and suitable for any diet restrictions. Cockles are low in fat and high in protein. It contains 13.5 grams of protein and 79 calories per 100-gram serving. Which makes it an ideal choice of seafood for weight loss and overall proper nutrition.
Gathering Cockles
During summer when the tide retreats and the water subsides, local Kiwis who live near the coast collect Cockles and other shellfish for consumption. Kai Moana or seafood collecting is a Maori tradition that New Zealanders practice up to this day. Wear protective boots and gloves when you go Kai Moana to avoid injury from accidentally picking up sharp objects. If you're lucky and the tides are favourable, our crew will collect cockles for our guests to try when cruising on The Rock.
Preparing Cockles for cooking
Freshly harvested Cockles from the coastal areas of New Zealand should be submerged in a bucket of water to remove excess debris from inside the shell. Thoroughly wash the shellfish before you cook them. Cockles have to be completely cooked before they can be consumed, this is to minimize the risk of suffering hepatitis which can be acquired through eating raw Cockles. They are usually prepared through boiling, frying and pickling then stored in jars. You may add Cockles to your dinner menu the same way you would use clams for pasta, soup or stew.
Here's a photo of a huge pot of steamed Cockles and Sashimi from our Kai Moana and Fishing activities with our guests at The Rock Adventure Cruise at one of the bays in the Bay of Islands.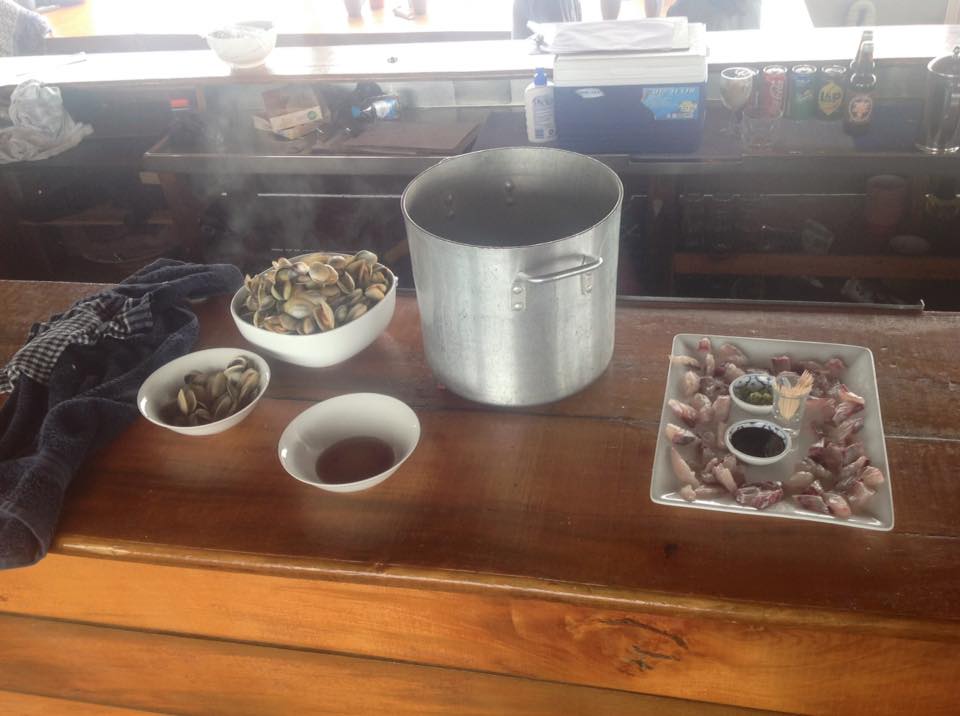 Find out about our different types of cruises available and see which one fits you. Learn more about it here.
If you're interested in booking now, Click here.
"Thanks to Jonny and the team for such a great day! We choose a private day hire to celebrate a 40th Birthday and everyone really enjoyed it. We were lucky...
"This was our second trip on The Rock Adventure Cruise overnight trip and it was just as amazing as we had remembered. This time we were able to take...
"Fabulous night and day out in the Bay of Islands! The whole family had a great time...our teenage children and my parents in their late seventies. There...
"WOW what an amazing experience we had! We had a family trip on The Rock which included all of the grandkids and grandparents, and everyone in...
"We celebrated my partners 60th Birthday with 10 family on an overnight stay on The Rock Adventure What a fabulous time we had. Jonny and the crew make...
All Reviews