Diverse group cruising around the Bay of Islands
---
From enjoying panoramic views to underwater fun and wildlife sighting.
---
Skipper's Report
| | | | |
| --- | --- | --- | --- |
| Date: | December 18, 2019 | Passengers: | 18 |
| Skipper: | Jonny | Weather: | 1m swell, plus 0.5m chop |
| Crew: | Sam, Nicole, Celia | Wind: | SW 20 plus, down to SW 15 then V5 overnight |
| Overnight Anchorage: | Putatokokato Bay | Snorkel Spot: | Mussel Rock |
| Island Visit: | Roberton Island | Wildlife: | Lots of penguins |
From enjoying Panoramic views to underwater and wildlife exploration and to adrenaline-pumping activities, this trip's group definitely had their very own experience of paradise.
After picking up an interestingly diverse group of 18 people to join the cruise from the Paihia port, it was an obvious cue for yet another eventful trip for The Rock Adventure Cruise.
We left Paihia at about 5 o'clock, just the best time for our guests to kickstart the cruise with a smooth sail through the calm, warm waters of the Bay of Islands, allowing everyone to take in an extremely relaxing state of mind that the scenic views brought.
As we were heading towards Putatokokato Bay for our overnight anchorage, our crew summoned everyone's strength to snap out of the beautiful view's captivation and warmed things up with some Target Shooting. After each guest has taken a turn to hit 'Lee' the rubber duck, the mood was finally set. While others began socializing by shaking hands and sharing stories, others decided to take it on a game of pool. Always an exciting moment for the Rock Adventure Cruise especially with a one really diverse group!
Not long after everyone just started to get comfortable, we arrived at Putatokokato Bay. Being surrounded by vast mountains, turquoise water and fresh clean air, our destination was definitely one of the most picturesque parts of the Bay of Islands. The weather fairly played nice on this day so the water was extra enticing! As we anchored, stunned faces were everywhere, and our guests were all giddy and raring to get in their swimwear and jump right into the water.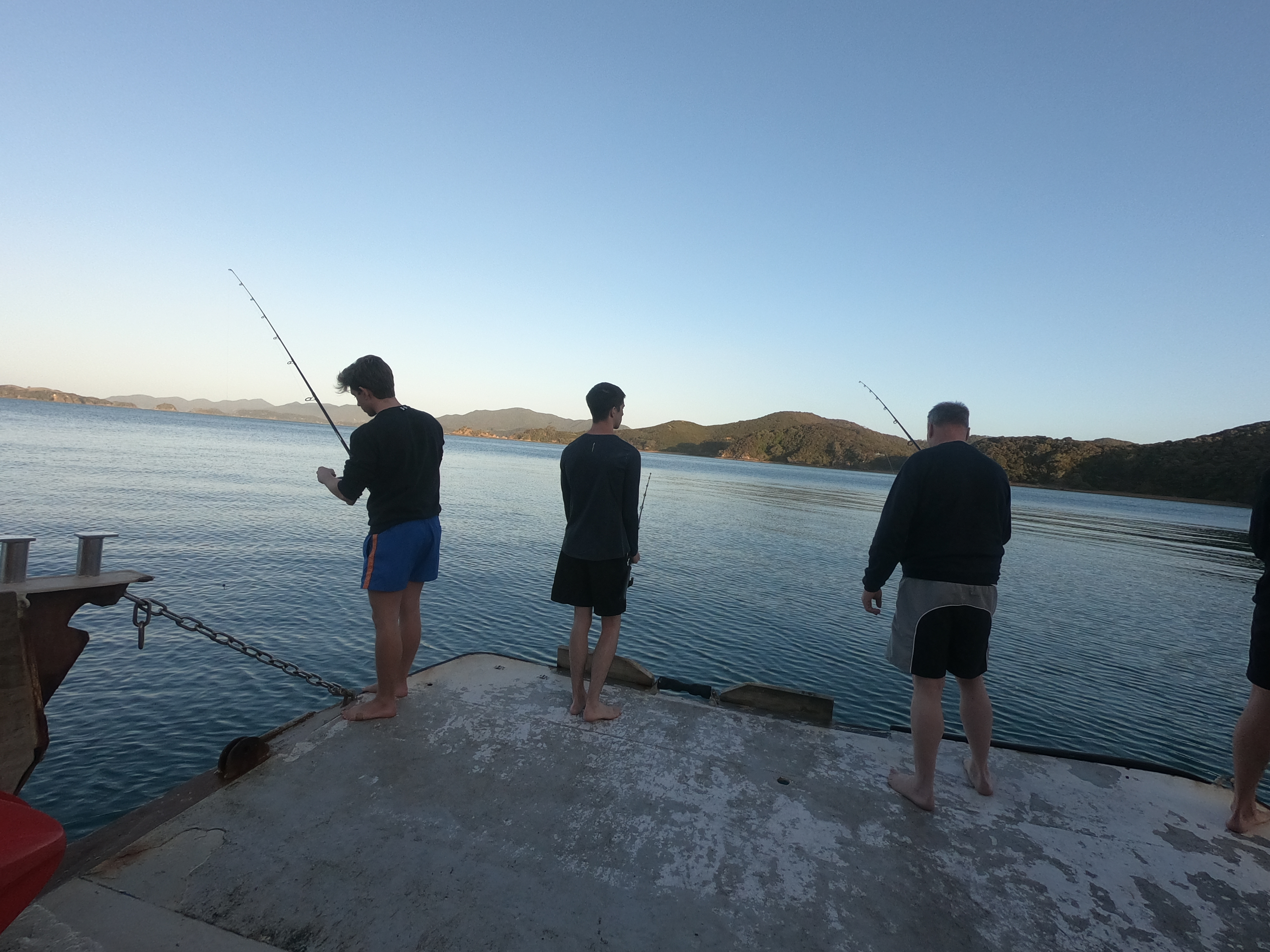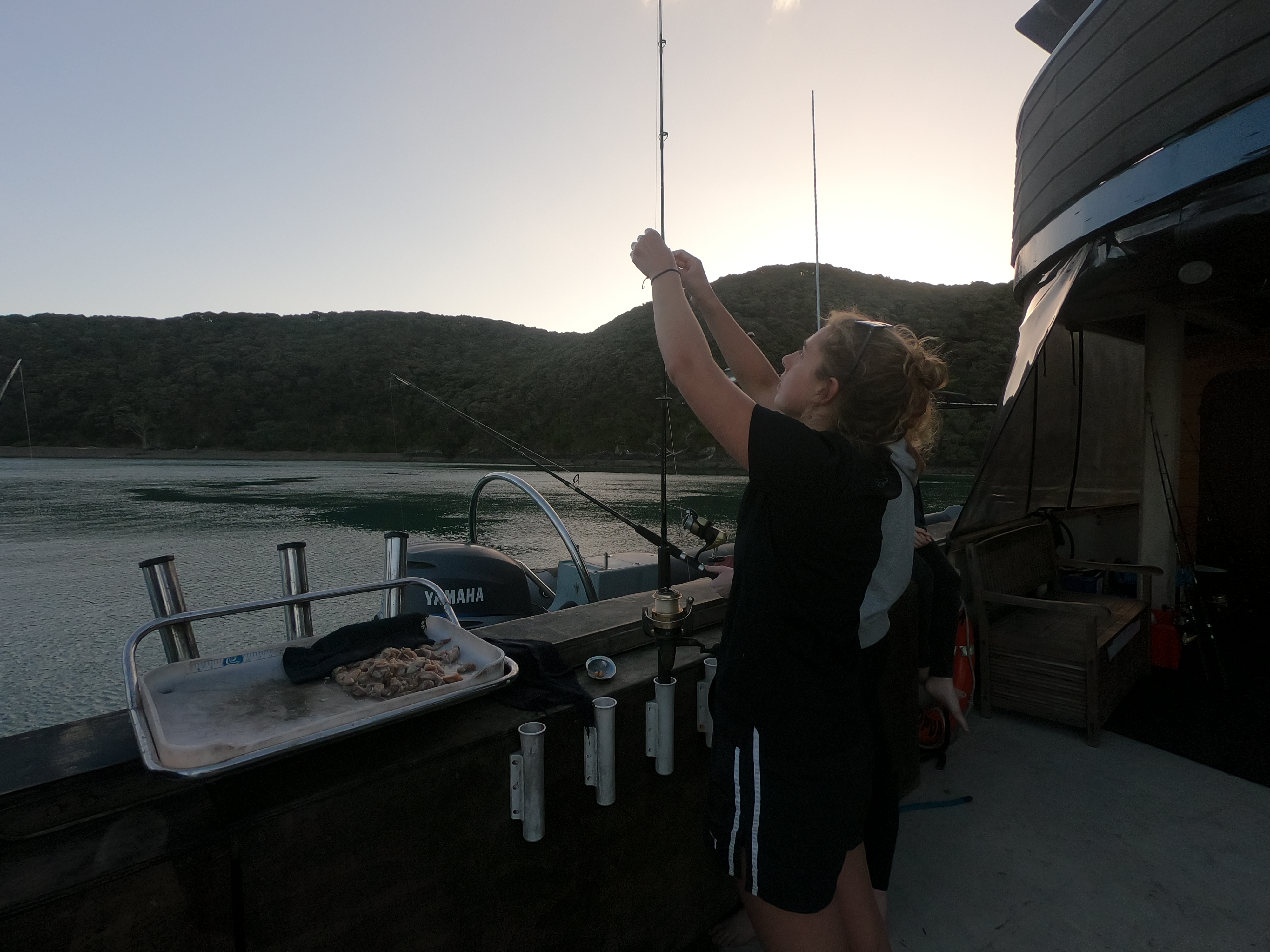 As the sun was setting, our crew gladly set up the rods for the dusk fishing. This activity allows everyone of all ages to try and get excited about, so even the kids were made to put down their toys or phones and pick up a fishing rod! Snappers were caught, kissed, and brought back to the water, and some having the right size were cooked for dinner.
A beautiful sunrise greeted everyone on the second day. While some of the guests enjoyed the view with a hot cup of coffee by the deck, some were only able to watch from their beds, even thinking it's still a dream! Imagine waking up to the sight of mountains, a colourful sky, and tranquil waters while still being in bed. Such a dream, indeed! A full, tasty and nutritious breakfast was later served to fuel everyone up for an adventurous day ahead.
Anchoring off Putatokokato Bay, The Rock Adventure Cruise sailed again through the Bay of Islands and headed to Roberton Island. There, everyone got to enjoy the waters in any way they wanted. From Kayaking to snorkelling, some guests got beautifully tanned after some time under the sun! The snorkelling spot for that day was at the Mussel Rock. The water was calm and safe so it was easy to just grab a mask, snorkel and fins, and swim out to shallow reefs teeming with sea life. Those who snorkelled were able to find the most astonishing array of marine life, allowing them to experience an up-close encounter with different schools of vibrant fish.
Since the Bay of Islands not only have enjoyable water activities but also exciting hikes to be undertaken, our guests were also taken for an island walk and experienced a serene sight-seeing at the mountain top. Each of them took turns posing for photos as the view was definitely Instagram worthy!
On our way back to Paihia Port, our guests tried out some Kina. Others were hesitant to try, but it was definitely one of the most interesting parts of the cruise so everyone took delight! During the cruise, we spotted a small group of large fish heading towards the boat at speed - they were Kingfish and hunting, so we swiftly moved to the back of the boat in the hope of them hitting our lures. We had no luck, but that moment definitely moved everyone on their feet with excitement! The diversity of our guests are always interesting, it might be a bit of a challenge in the beginning but significantly makes every cruise much more notable.
"As soon as we docked after 26 fun hours on The Rock, my usually screen-addicted 13 year old declared "I wish we'd had a whole extra day"....
"Spent three days on the boat with friends and had an incredible time! The Rock has good food to keep you fueled for the wide range of activities -...
"Sea adventure, Fun activities and hiking... Complete package.. All seasons... Highly recommended... Awesome crew and magnificent skipper... For young and...
"Amazing experience with the rock cruise!!!! Thanks for having us! It's such an unforgettable experience, for those who hasn't try before,...
"We chartered The Rock for our engagement party and it was hands down the best 3 days of our lives. Jonny, Liam, Harley, Erin and all the crew were a gift!...
All Reviews