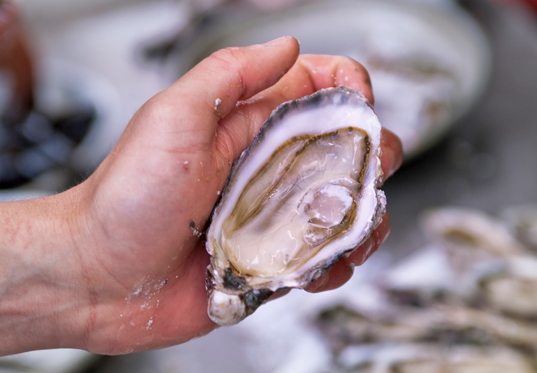 Photo from www.jobsfornsw.com.au
The New Zealand Rock Oyster
For those who love to eat seafood, oysters are one of the favourite go-to's. Luckily New Zealand is abundant of oysters especially Rock Oysters. These are endemic not only in New Zealand but, also in Australia. It was once plentiful in North Island but, it has since been replaced by the more aggressive Pacific Oyster. Legally, Rock Oysters cannot be opened when it is attached on the substrate that they grew on. The limit per catch is only 250 per person per day, and there is no size limit.
You will be able to spot this oyster because of its roughly oval shape which is chalky white with patches of purple and brown. Our crew will help you identify this species, and you will be able to enjoy it for dinner! These are commonly found in rocky shore intertidal and at sandy or muddy shore intertidal. No need to worry because we are here to help you locate this seafood so you can marvel at it with your family and friends.
The Maori people call this Tio reperepe, and even before Rock Oysters are already part of their diet. Like regular oysters, these are also flavorful and are best eaten fresh. Rock Oysters are filter feeders by straining planktonic algae from the water and they can grow up to 50 grams in three years.
Once you join our cruise, you will be able to find these special species of oysters. Not only that, but you also get to see different kinds of local marine life that can only be found in New Zealand. This is a great way to escape the city and become one with the ocean.
Aside from the fun activities and the awesome view, we bring you to different islands so you can create more memories with your family. One of these memories is eating tons of seafood. So much seafood that you will not want to eat until your next cruise trip with us. There's a lot that we can offer you and Rock Oysters are just the start. There are different varieties of seafood that you will be able to eat when you are with us.
Most people book a cruise to experience our fun water activities, but most people want to eat fresh seafood until they couldn't any longer. You will experience both plus a little bit of nature walk so you can find plants and trees that are only native in North Island. This is one of the best experience that we can offer and it's best if you book an overnight cruise with us.
What's the best way to enjoy Oysters?
If you enjoy a good shellfish then you should opt for raw oysters with a dash of lemon juice, Tabasco or cocktail sauce. They are best served on a tray of ice right after shucking.
The Bay of Islands is home to Rock and Pacific Oysters which are naturally found in the tidal zone of the Northern Islands. Both Rock and Pacific Oysters live in more shallow areas compared to Bluff oysters. They have longer shelf-life compared to the latter which makes Bluff Oysters more limited in supply.
Here at The Rock Adventure Cruise, we usually serve oysters when they are in season or when the weather permits that we get a bountiful Kai Moana. Whenever our guests request for oysters, we try to include them in the menu to satisfy their gastronomic cravings.
Want to know more about Rock Oysters and other seafood? Check out The Rock Cruises and make a booking.
"Amazing experience with the rock cruise!!!! Thanks for having us! It's such an unforgettable experience, for those who hasn't try before,...
"Friendly crew, fun activities, meet new friends, kids were so enjoyed. Fishing, kayaking, hiking, snorkeling, you must experience this, we are coming back....
"As soon as we docked after 26 fun hours on The Rock, my usually screen-addicted 13 year old declared "I wish we'd had a whole extra day"....
"We had a nice trip with the "Rock" team. The trip was really pleasant and relax. We had sufficient time to do all activities. Having...
"Awesome crew!!! Highly recommend The Rock Adventure!! Had our brothers surprise birthdays and the crew were ON!!! Views for days!! Loved the whole trip!!"
All Reviews