What do you need to know about Mussels?
Mussels or Kutai is a great bi-valve shellfish, it is juicy, salty, tender and a little bit sweet. In other words delicious. Lucky for us Kiwis, we get to enjoy the bounty harvest of mussels here in the Bay of Islands. Together with the guests, the crew gathers mussels whenever the weather permits. According to studies the change in Mussel production is affected by climate.
We at The Rock collect Kai Moana or seafood, and try to show our guests a safe way to do so. The joy in gathering food from nature and serving it at the dinner table gives one a different level of satisfaction that we like to share with our guests at The Rock NZ.
At first, mussels may seem a bit intimidating to eat but they are surprisingly easy to cook. The hardest job is practically the cleaning and brushing bit. In this article, we will let you in on our little secret at The Rock Adventure Cruise on how to prepare delicious mussels that will tingle your palate.
What type of mussels are found in New Zealand?
There are different types of mussels around the world but the best tasting ones are the Greenshell mussels found in New Zealand. Also called Green Lipped Mussels. As Kiwis, we consider ourselves lucky to enjoy this delicious gift from nature all year round. You can find them plentiful along the coasts usually clinging on to rocks. They may be difficult to remove when the waves are crashing and strong. Only harvest mussels that are bigger than your thumb, let the small ones grow and harvest them later.
What are the benefits of consuming Mussels?
Due to market demands for seafood and the benefits, it provides our diet. There has been significant growth in mussel production and farming all over New Zealand. Greenshell mussels are indicated to have anti-inflammatory properties available to humans in the form f omega-3 fatty acids, amino acids, minerals and carbohydrates. It is also known to be a brain food with its high levels of Vitamin B12. There is also another way of reaping the benefits of consuming mussels aside from incorporating it in your diet regularly. There is a freeze-dried mussel powder supplement that is already making waves in the US market along with mussel oil.
How do we like to prepare mussels at The Rock NZ?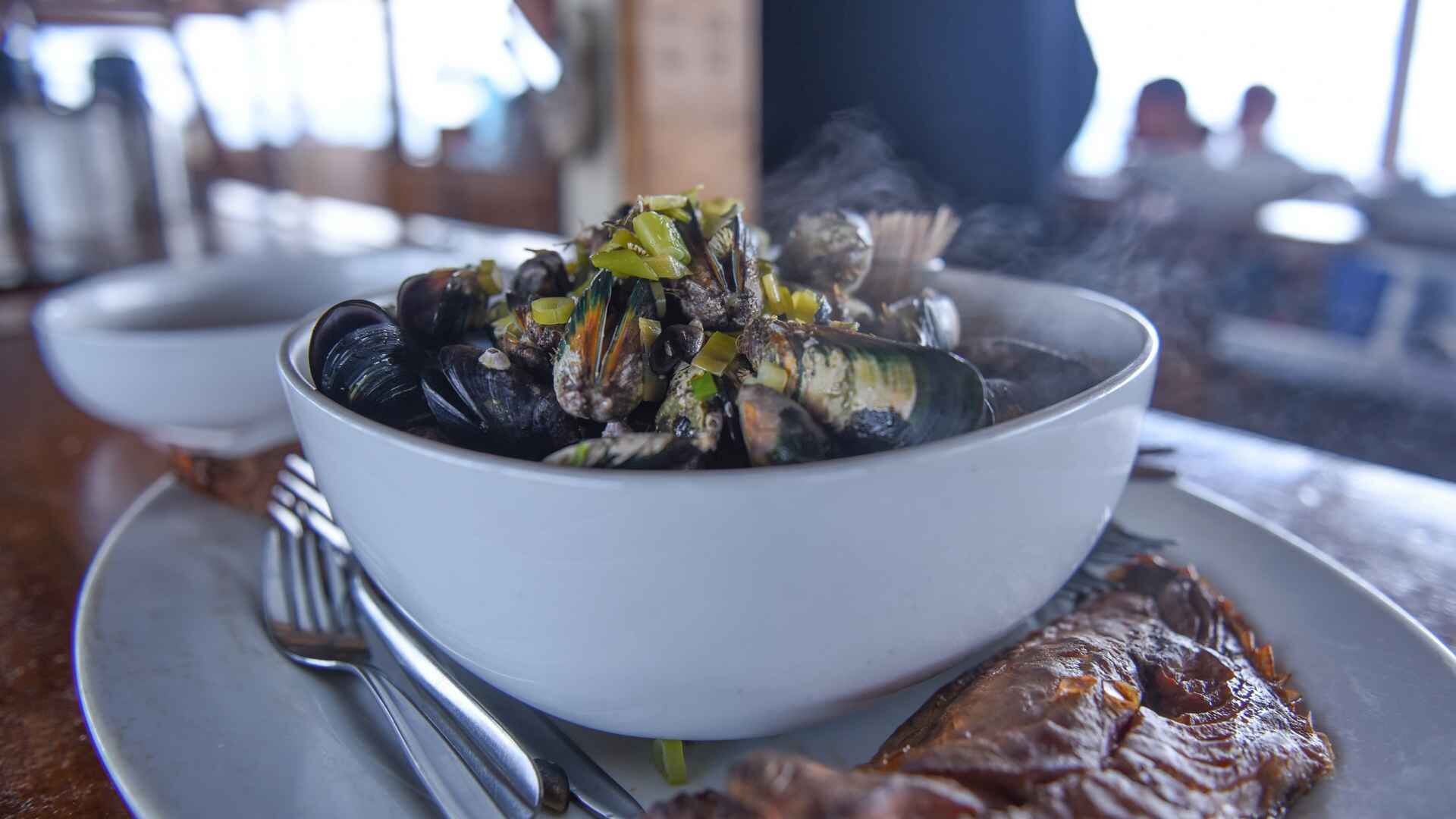 After a successful kai moana, our crew gather the mussels in a bucket with seawater allowing it to soak and spit out sand and other debris. After a few minutes, we start cleaning them by brushing off the dirt or what they call "beards". Freshly picked mussels must be tight-lipped and alive to be safe for consumption.
Once the mussels are thoroughly cleaned we either barbecue the mussels or if we're feeling fancy, we put it in an empty pot and steam it. Add some white wine, garlic, shallots and finish with fresh herbs. Its natural flavours are delicious enough that it needs no extra seasoning. Pair it with a slice of French bread and some white wine for sipping and you are set to enjoy a wonderful cruise at the Bay of Islands.
If you are keen to try your hand at kai moana, join us on The Rock Adventure cruise for an adventure of a lifetime.
See the full selection of itineraries,

here

. You will find our cruise calendar

here

. If you wish to talk to us feel free to give us a call or message us.
"Awesome adventure. Plenty of activities for everyone. Stunning scenery. Crew were so accommodating with everyone's needs. Great time for something...
"Absolutely recommend!! Jonny, Erin, Otulea and Leilani really took care of us during our work Christmas doo.Nothing was too much to ask. Food - Amazing,...
"This was our second trip on The Rock Adventure Cruise overnight trip and it was just as amazing as we had remembered. This time we were able to take...
"It was amazing ending 2022 on the Rock! Authentic experience with friendly hostel/ family vibe. Weather wasn't the best but the adventures surely...
"WOW what an amazing experience we had! We had a family trip on The Rock which included all of the grandkids and grandparents, and everyone in...
All Reviews