Island Walks
Bay of Island Activities
---
Take a walk in the Bay of Islands!
---
With over 144 islands surrounded by stunning beaches and coastlines plus a nice hilly landscape, the Bay of Islands is an ideal piece of paradise to wander by foot or by boat. Discover the different types of beauty the Bay of Islands has to offer by swimming in its pristine beaches and walking around the untouched islands.
All the guests for both Day Cruise and Overnight Cruise are picked up from Paihia wharf and brought where The Rock Adventure Cruise is anchored. The adventure starts the moment you come aboard our cruise. We introduce the guests to various kinds of local activities to make the most of their experience in the great outdoors.
The skipper decides which island and beaches we do our island walks depending on the weather conditions to provide safety for all the guests. We usually reach the island of choice by paddle boarding or kayaking then guided by our crew we walk up to the viewing point to see the stunning 360 island view.
The Rock's Top Island Walks Destination in the Bay of Islands
Roberton Island
Roberton Island or Motuarohia Island is a gem tucked away in the Bay of Islands completely unspoilt. It is the closest island to Pahia wharf known for its picturesque Twin lagoons which are the most photographed view in the Bay of Islands. There's a 15-minute walk uphill that leads to the top where you can see the breathtaking panoramic view of the Roberton island.
Stingray Bay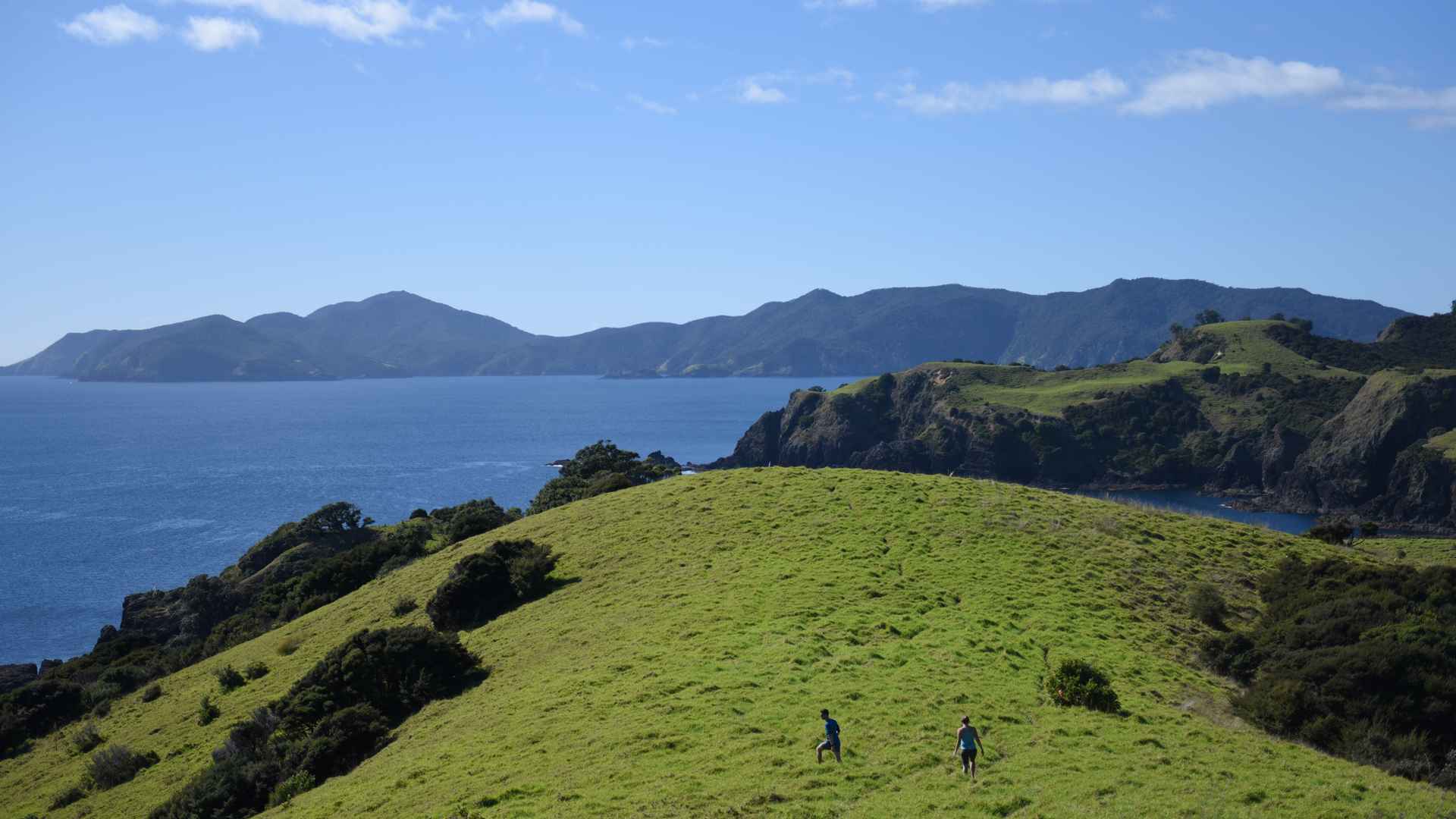 Another island worth the extra cardio for kayaking, snorkelling and island walking is Stingray Bay. It is the quiet and serene part of the popular Cathedral Cove, where you can enjoy exploring its sandy beach and go for a nice swim to cool down after all the island walking. There is a track going atop the hill perfect for viewing the two adjoining beaches of Cathedral cove.
Palm Beach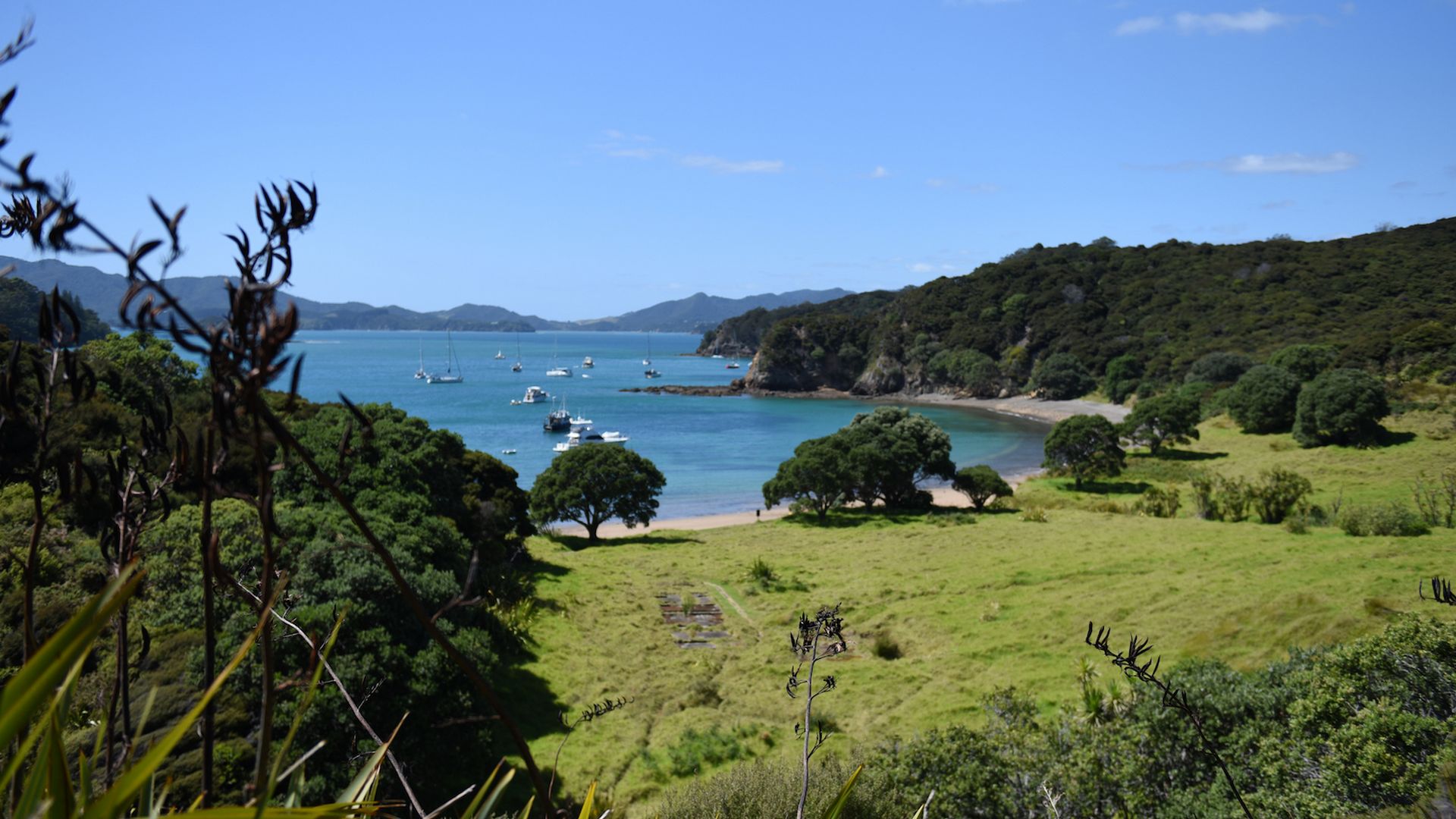 Palm beach is nestled away on Moturua Island. It is undeniably one of the best beaches on Moturua Island with a pristine beach and calm crystal clear waters with easy access to boats and kayaks. The coastline is a great playground for ball games and a perfect spot for a beach picnic. There's a pathway leading to the mountain top overlooking the scenic beaches of Moturua Island.
Waewaetoria Island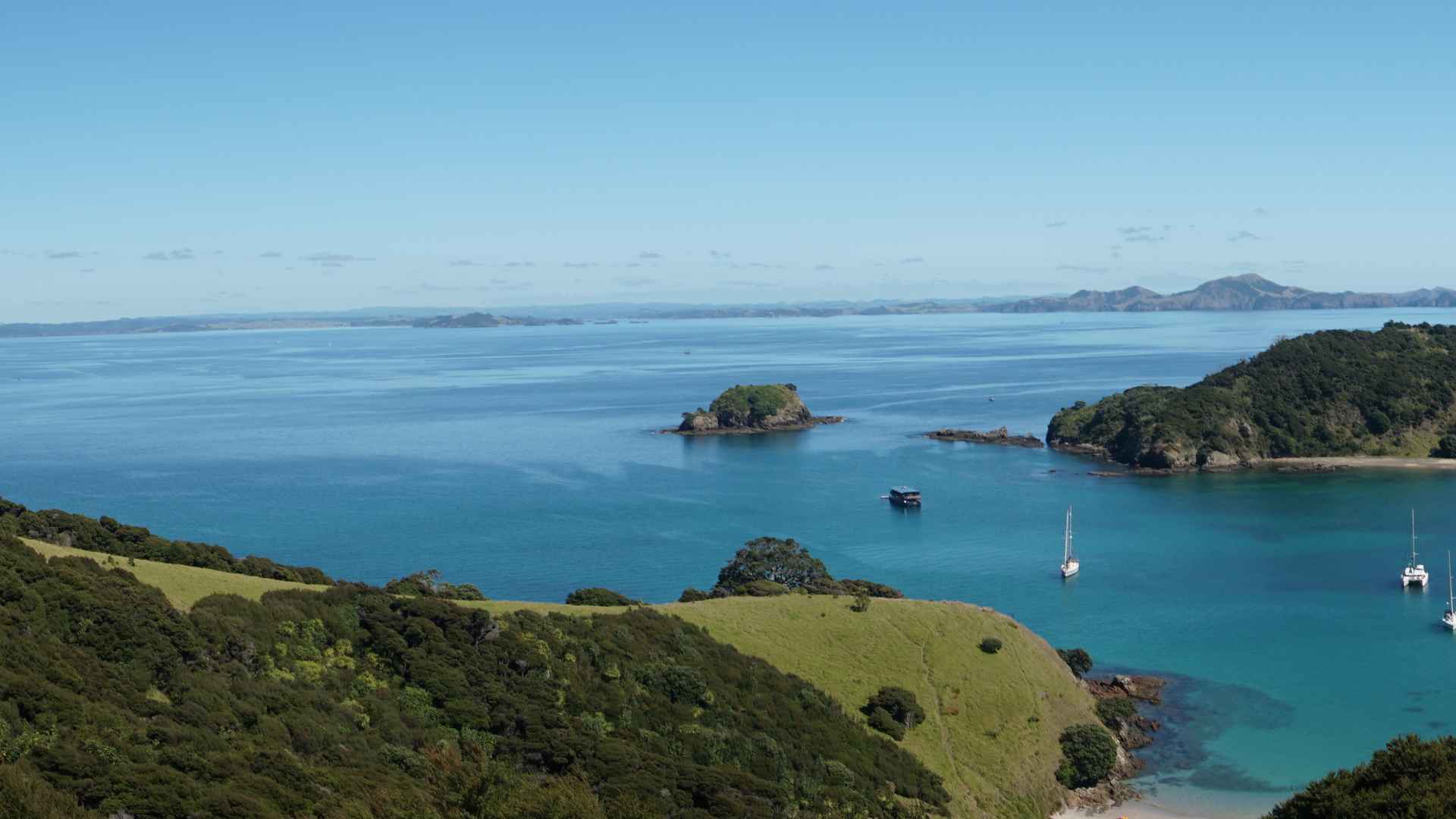 Waewaetoria Island is every outdoor lovers' dream tropical destination among many islands in the Bay of Islands. This piece of paradise is a wonderful treat for The Rock Adventurers to wander alone during our island walks, we often feel so lucky to be exploring the island all to ourselves. A two-hour trip is definitely not enough once you step foot on the island. The sound of waves crashing, birds chirping, and the sea breeze gently touching your face makes everything else less significant.
Army Bay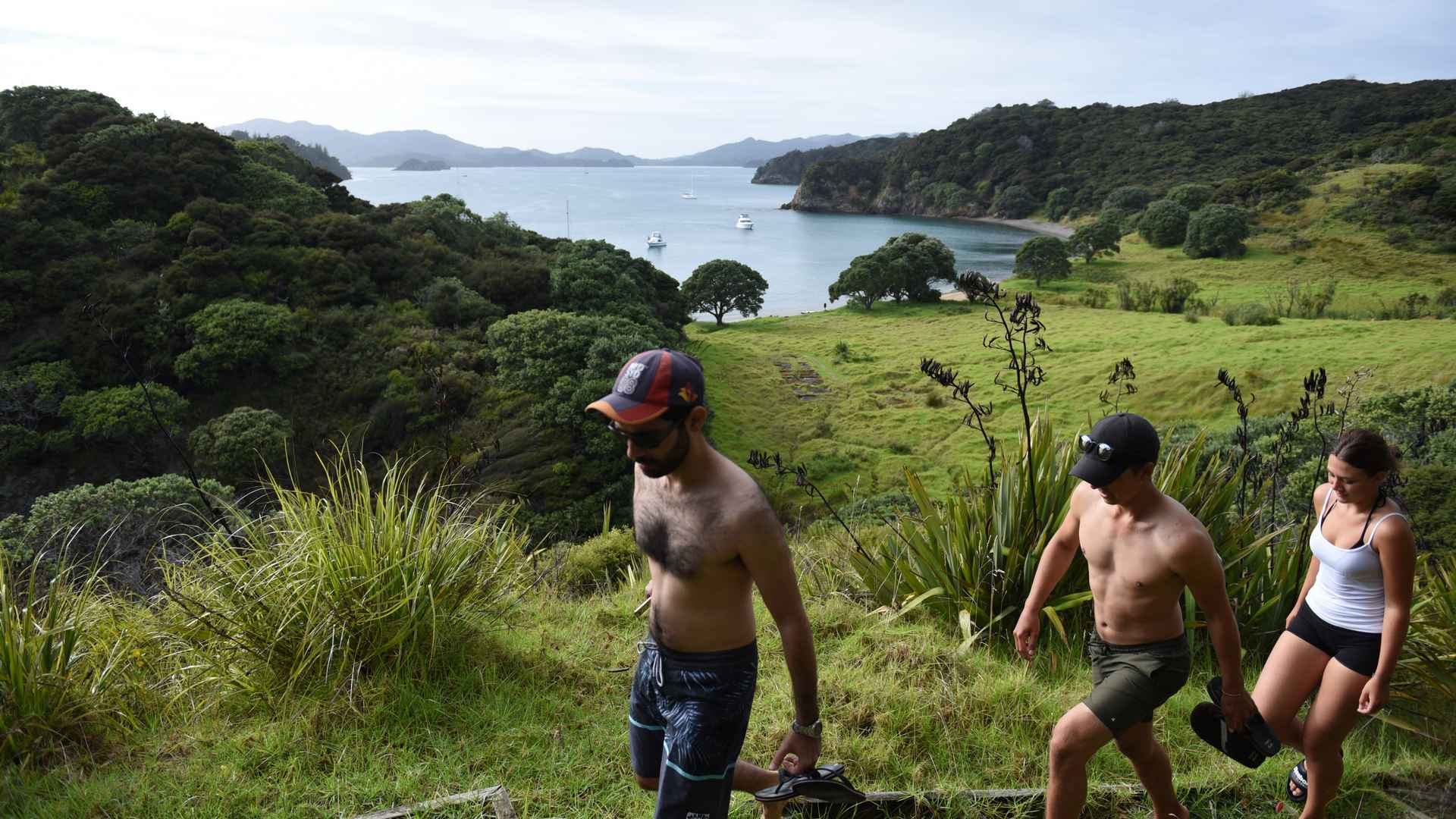 Found in Motorua Island, Bay of Islands this secluded beach is readily accessible to boats, kayaks, and paddleboards. Army Bay is safeguarded by grassy slopes and massive headlands surrounding the beautiful curve of a calm beach. Our crew anchors The Rock Adventure Cruise easily off beach Army bay while our guests make a go at swimming, fishing and kayaking. We take on a mini boot camp hiking uphill that gets rewarded with a stunning view that everyone easily falls in love with.
For our guests to be prepared for our island walks, we advise them to wear proper clothing and apply sunscreen while we spend time under the sun. Island walks are usually scheduled in the mid-morning after snorkelling, both activities allow us to burn all the calories from the sumptuous lunch buffet prepared by the crew.
Among all our the other local activities available on The Rock Adventure Cruise, Island walks and exploration gives the guests their much needed time to reflect and relax. Which easily makes it as one of their most memorable part of the cruise up to this day.
We are keen to share our natural playground here in the Bay of Islands, everyone is invited to come and join us. We have created a Local Subscription package to make it easy for Kiwi locals to enjoy our homeland. You may read all about our available Local Packages here.
If you wish to book The Rock Adventure Cruise to take some time off and recharge head on to our cruise calendar here and see if our cruise itinerary fits in your schedule. We can't wait to meet you and share memories with you on our home.
"WOW what an amazing experience we had! We had a family trip on The Rock which included all of the grandkids and grandparents, and everyone in...
"This was our second trip on The Rock Adventure Cruise overnight trip and it was just as amazing as we had remembered. This time we were able to take...
"Thanks to Jonny and the team for such a great day! We choose a private day hire to celebrate a 40th Birthday and everyone really enjoyed it. We were lucky...
"It was amazing ending 2022 on the Rock! Authentic experience with friendly hostel/ family vibe. Weather wasn't the best but the adventures surely...
All Reviews