Bay of Islands
Local Places
---
Our local marine playground - come join us.
---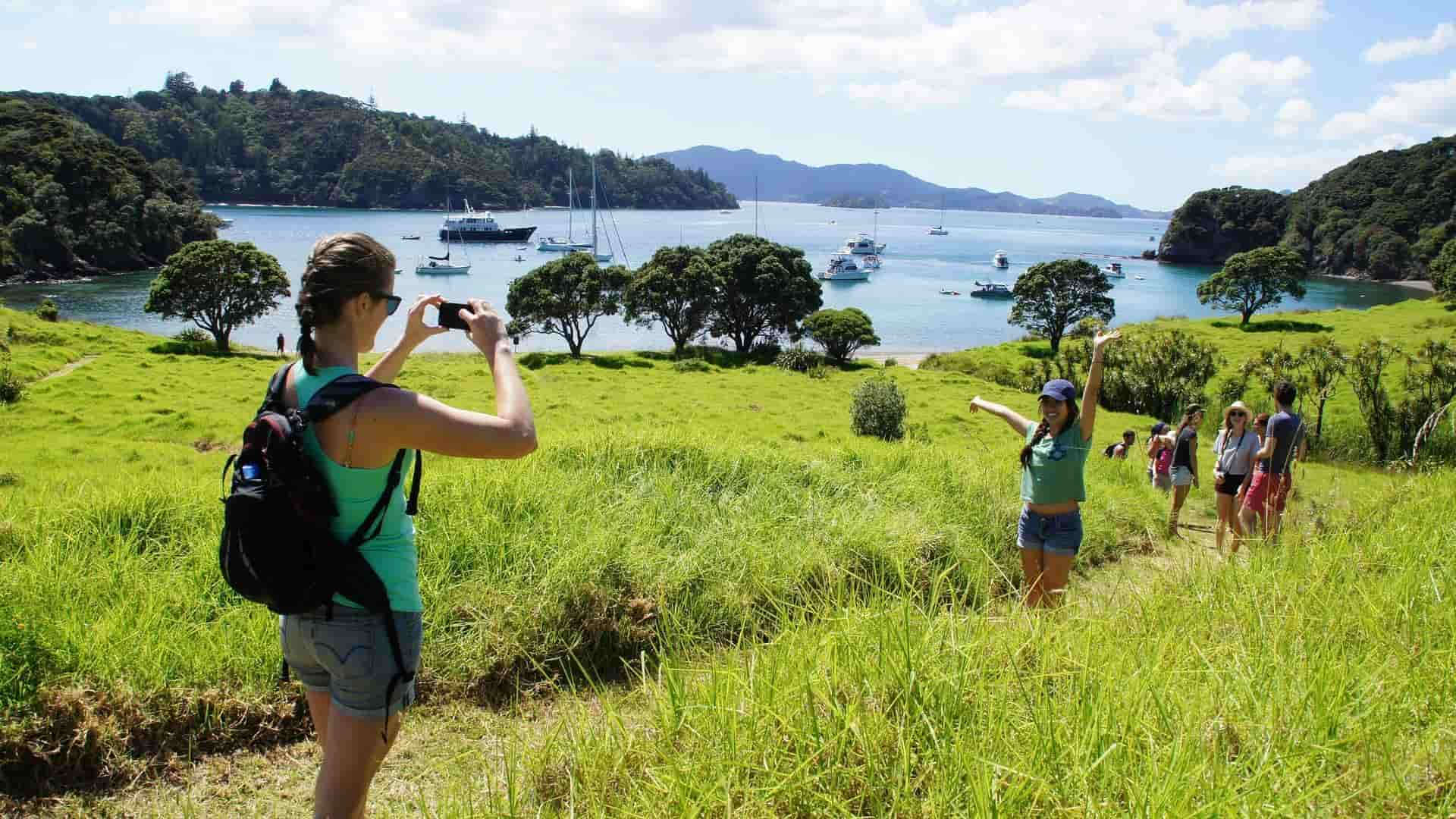 It is well-known that the Bay of Islands in New Zealand boasts some of the country's most spectacular scenery. What is less known is that of the 144 islands, very few can be accessed (or even seen) if you stay on land. To explore, you have to take to the water.
That's why The Rock Adventure Cruise is so special because it gives you a long, lingering look at many of the area's islands as you cruise - plus the opportunity to play beach games or go for a gentle walk up to a vantage point. Once we cruise around Tapeka Point - just north of Russell - you'll enter a maritime adventure playground with wildlife that includes penguins, dolphins, marlin, whales, gannets and more.
The subtropical beauty of the Bay of Islands is a popular holiday destination. It's known for its stunning coastal scenery and wildlife; its warm waters, sandy beaches and beautiful islands. There is a wide range of activities on offer in the Bay of Islands region with something to suit every taste! We fit many of them into The Rock Adventure Cruise - kayaking, snorkelling, fishing, island walks, collecting kai moana, paddle-boarding but if you are looking for less water the region has some of that for you too.
Land-based activities that are both cultural and adrenalin-fuelled including great walks and beautiful beaches to while away sunny days. And we recommend our local Northland wine trail and enjoying the local food markets if you get a chance.
The Bay of Islands is a three-hour drive or 35-minute flight north of Auckland and includes 144 islands between Cape Brett and the Purerua Peninsula as well as the boutique towns of Opua, Paihia, Russell and Kerikeri.
The Bay of Islands has transient dolphins that often frequent our favourite anchorages. We are often blessed with the opportunity of seeing large families of wild bottlenose dolphins playing, resting or hunting. We see them in their natural setting, either crossing our path while cruising or whilst on anchor. Our intention is not to harass or interfere with their natural patterns and we treat their friendly visits as a great privilege. The bottlenose dolphins are the largest and friendliest of the dolphin family and can grow up to 3.5 metres in length. We see pods or groups of up to 20 dolphins at a time in the Bay of Islands. At certain times of the year, we are lucky enough to see newborn dolphins swimming with these pods.
Orca are occasional visitors to the Bay while travelling up to 150km per day. When we hear of these sightings we can be sure not to see any dolphins as they disappear to safer waters. Orca can grow to nearly 10m in length and have a striking black and white colour. These huge mammals are very curious and often approach boats to investigate.
The New Zealand Fur Seal is seen in Northland waters during spring. They are often sighted out near Piercy Island (the Hole in the Rock) during this period. This cute, whiskery creature can dive deeper and longer than any other fur seal.
The Bay of Islands is home to a number of native birds. You will often hear kiwi calling at night and might see signs of their night-feeding excursions on some of the islands. Oyster catchers with their distinctive red bills are often seen feeding on the rocks. The rare New Zealand Dotterels are nesting on a number of the islands: if you see one looking as though it has a broken wing, beware! it's only pretending and in fact it is trying to distract you away from its nest. We frequently see little blue penguin, relaxing on the surface of the sea, well unless you make to much noise in which case they will dive. Always keeping our eyes open
for gannets diving the waters – a clear indication there are fish feeding close to the surface. It's always a pleasure seeing these big, graceful birds whether they be resting on the rocks or soaring above all over the waters of the Bay of Islands.
Find out about our different types of cruises available and see which one fits you. Learn more about it here.
If you're interested in booking now, Click here.
"WOW what an amazing experience we had! We had a family trip on The Rock which included all of the grandkids and grandparents, and everyone in...
"Thanks to Jonny and the team for such a great day! We choose a private day hire to celebrate a 40th Birthday and everyone really enjoyed it. We were lucky...
"This was our second trip on The Rock Adventure Cruise overnight trip and it was just as amazing as we had remembered. This time we were able to take...
"I wanted to organise an overnight cruise in the Bay of Islands with a group of 25 friends and this was the absolutely PERFECT company to do it with! Jonny...
"Fabulous night and day out in the Bay of Islands! The whole family had a great time...our teenage children and my parents in their late seventies. There...
All Reviews