Stingray | Whai
Marine Life
---
Known as Whai in Maori
---
More often than not Stingrays are publicized to be one of the most dangerous marine animals. In fac,Stingray are peaceful and calm underwater floaters that occasionally swim alongside frequent divers. When approached by swimmers they either stay still and camouflage in the sand or flee away when they feel threatened.

What are the most common Stingray species you can find in the Bay of Islands NZ?
Three stingray species presently dwell in waters of New Zealand; the long-tailed stingray Dasyatis thetidis, the short-tailed stingray D. brevicaudata and the eagle ray, Myliobatis tenuicaudatus. During the summer you can see numerous Short-tailed Stingrays swimming just above the sand around Cathedral Cave. If you're lucky enough you'll even spot them around the Paihia wharf.
New Zealand Long-tailed Stingray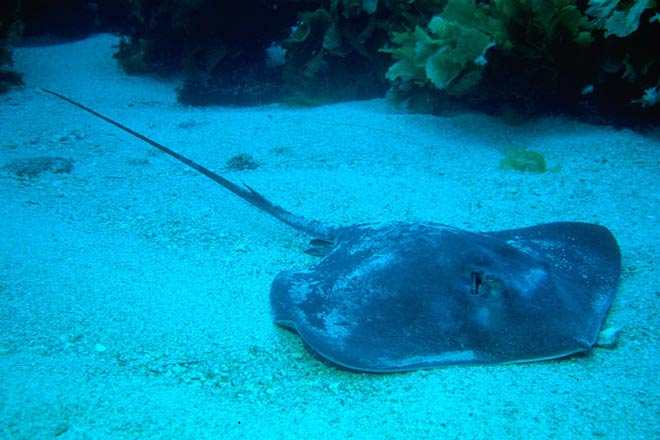 Following its name, the long-tailed stingray has a tail double its body length. It can grow to 4 meters long with dark green to black coloured upper side and white belly. Long-tailed stingray is also known as "Whiptail stingray", or Whai in Maori. Divers have seen the long tail stingrays on the shallow sandy areas around the coast and up to 400 meters deep. Apart from New Zealand, Long-tail stingrays are also found in other subtropical waters in South Australia and South Africa.
New Zealand Eagle Stingray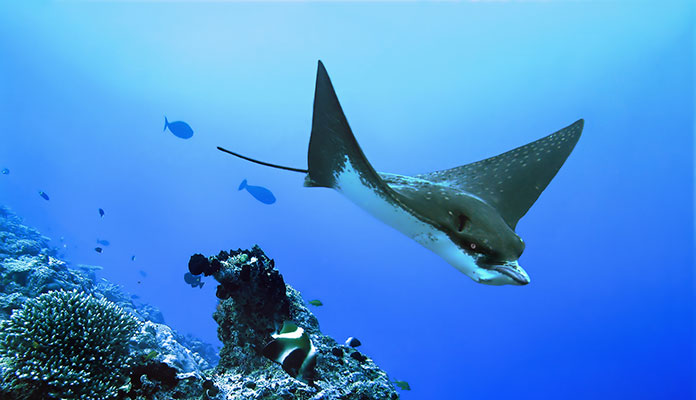 Eagle stingray is one of New Zealand's smallest stingrays commonly found in North and South coastal areas. Popularly known as Whai Keo in Maori, its distinguishing feature is its thin and whip-like tail with a fin on top. They are mostly dark grey to black coloured with a white stomach. Eagle stingrays prefer the large Cooks turban stingray among other molluscs as part of their diet.
New Zealand Short-tailed stingray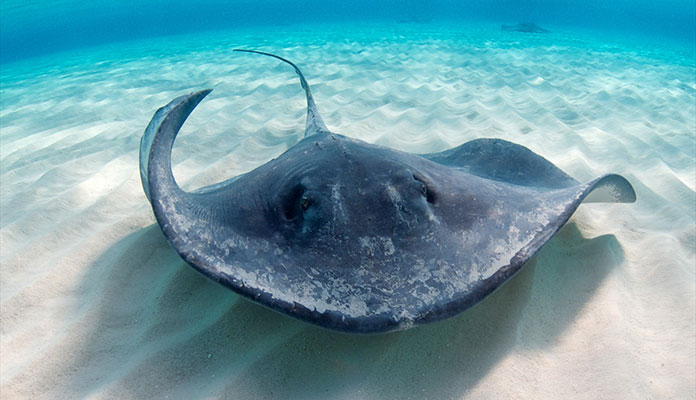 The short-tailed stingrays or also known as smooth stingrays are bottom dwellers of the ocean. During summertime, they are most likely seen gathered in groups around Poor Knights Island Islands Marine Reserve off the Tutukaka Coast of northern New Zealand.
Like long-tailed stingrays, they are also found outside New Zealand in other subtropical areas across South Africa and Southern Australia.
The Rock Guidelines for Swimming with Stingrays
- Avoid disturbing a stingray when camouflaged in the sand
- Try not to walk around the shoreline of known stingray habitats
- When necessary to walk around the shoreline, shuffle your feet to alarm a stingray resting on the sand.
- Avoid swimming just above a stingray casting a looming shadow that could be mistaken as an orca - their longtime archnemesis.
- If in any unfortunate event you get attacked by a stingray, seek medical attention.
- While swimming be conscious about your surroundings but don't panic in the presence of a stingray, don't let your fear get in the way of this one if a lifetime adventure.

Find out about our different types of cruises available and see which one fits you. Learn more about it here.
If you're interested in booking now, Click here.
Sources:
https://www.nzgeo.com
https://www.liveabout.com
https://www.globosurfer.com
"Thank you so much for the amazing experience! We have enjoyed our cruise so much! Kids are so happy and as too! We have learned so much within two days!...
"I went on the Rock about 6 years ago and had fantastic memories so decided to return when I was in Paihia this year. I certainly wasn't disappointed!...
"As soon as we docked after 26 fun hours on The Rock, my usually screen-addicted 13 year old declared "I wish we'd had a whole extra day"....
"Sea adventure, Fun activities and hiking... Complete package.. All seasons... Highly recommended... Awesome crew and magnificent skipper... For young and...
"This is a highly recommended cruise. The staff are welcoming and friendly that you don't feel you are among strangers. The Skipper Jonny is a gem of a...
All Reviews