Kayaking
Bay of Islands Activities
---
Explore the Bay of Islands waters aboard your own kayak
---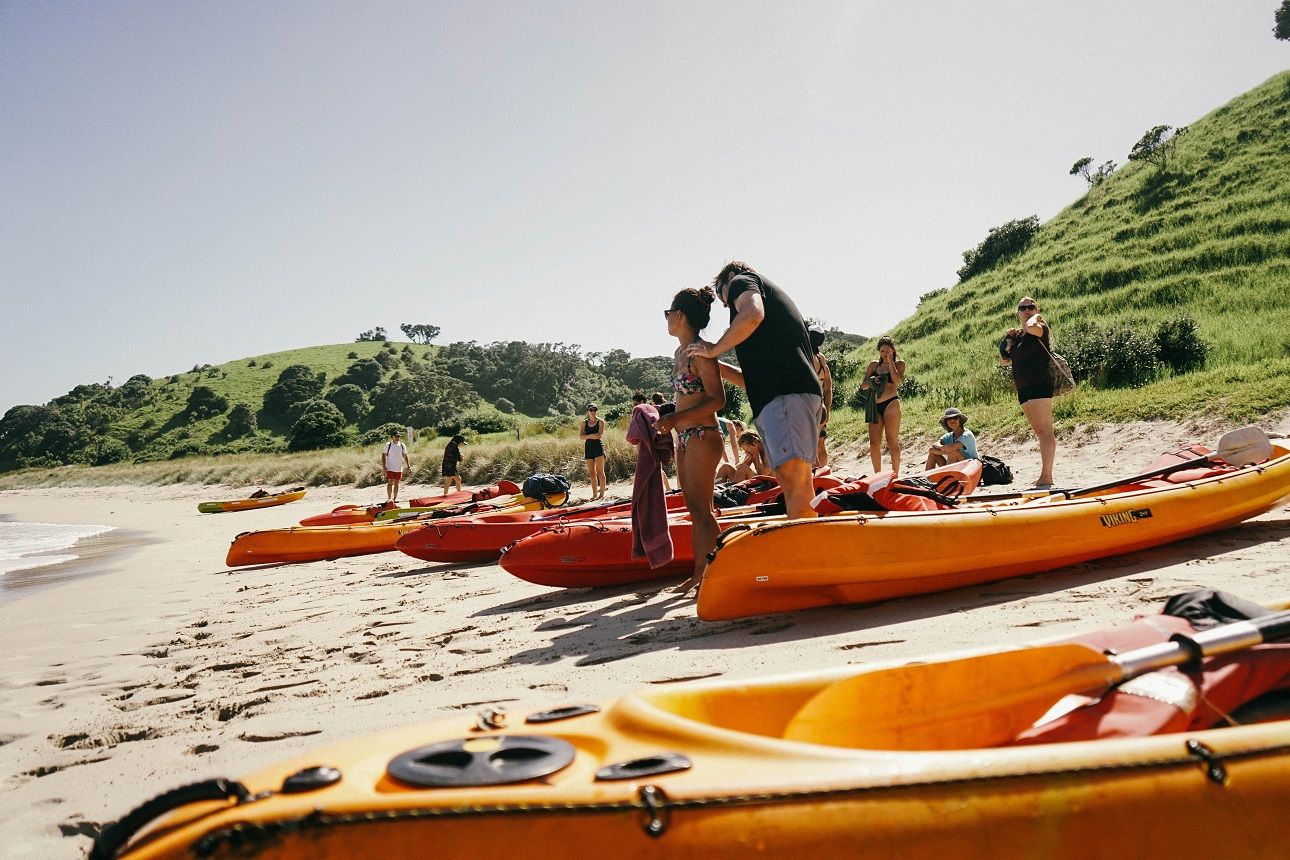 Kayaking is an amazing way to immerse yourself in the stunning scenery of the Bay of Islands. Our second day allows time to kayak and explore the coastline in your own time. In the silent stillness you will often see rare native birds and pass over eagle rays in the sandy shallows. If you are a beginner you won't miss out – the crew is happy to help you master that paddle; they have taught many first-timers in the clear waters that surround these islands.
Paddle in the clear blue outer island waters along the remote coastline, giant sea caves & secluded beaches. You will see tui and fantails darting among the Pohutakawa and flax on the shoreline. Below you the chance to see blue spotted stingrays, snapper, blue mao mao and rocky reefs that are home to marine life native to New Zealand
The Bay of Islands offers up stunning scenery during daylight and at night. On our overnight cruise guests are given the chance to kayak under a starry sky. On an evening kayak, we often hear Kiwi calling out, see the Milky Way, and get the chance to see phosphorescence. Paddling through this sun charged algae is often a first time experience for travelers. We have heard it described as "fairy dust" and an underwater fireworks display. Our crew never tire of seeing it and guiding you on this fantastic experience.
"It was amazing ending 2022 on the Rock! Authentic experience with friendly hostel/ family vibe. Weather wasn't the best but the adventures surely...
"This was our second trip on The Rock Adventure Cruise overnight trip and it was just as amazing as we had remembered. This time we were able to take...
"WOW what an amazing experience we had! We had a family trip on The Rock which included all of the grandkids and grandparents, and everyone in...
"Thanks to Jonny and the team for such a great day! We choose a private day hire to celebrate a 40th Birthday and everyone really enjoyed it. We were lucky...
"Awesome adventure. Plenty of activities for everyone. Stunning scenery. Crew were so accommodating with everyone's needs. Great time for something...
All Reviews