Kayaking
Bay of Islands Activities
---
Explore the Bay of Islands waters aboard your own kayak
---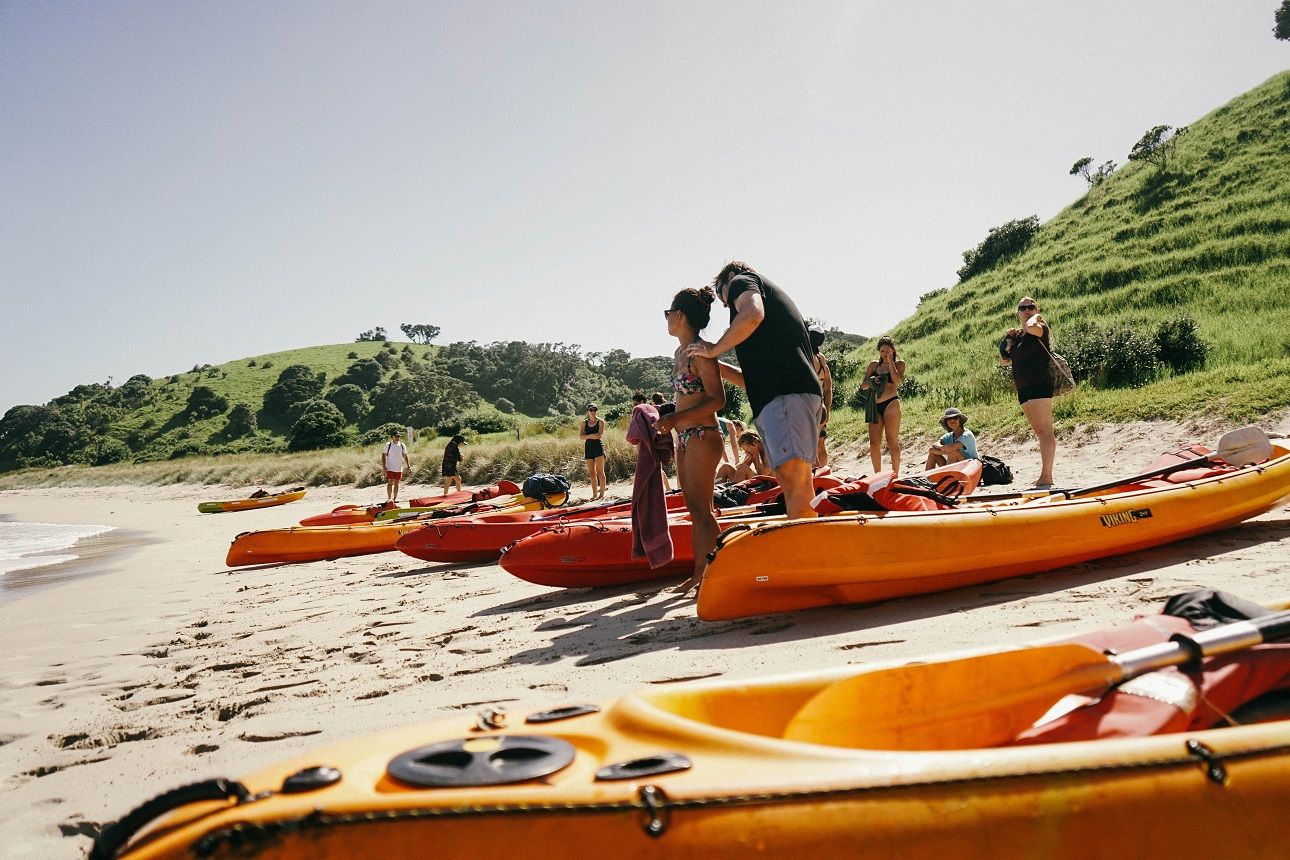 Kayaking is an amazing way to immerse yourself in the stunning scenery of the Bay of Islands. Our second day allows time to kayak and explore the coastline in your own time. In the silent stillness you will often see rare native birds and pass over eagle rays in the sandy shallows. If you are a beginner you won't miss out – the crew is happy to help you master that paddle; they have taught many first-timers in the clear waters that surround these islands.
Paddle in the clear blue outer island waters along the remote coastline, giant sea caves & secluded beaches. You will see tui and fantails darting among the Pohutakawa and flax on the shoreline. Below you the chance to see blue spotted stingrays, snapper, blue mao mao and rocky reefs that are home to marine life native to New Zealand
The Bay of Islands offers up stunning scenery during daylight and at night. On our overnight cruise guests are given the chance to kayak under a starry sky. On an evening kayak, we often hear Kiwi calling out, see the Milky Way, and get the chance to see phosphorescence. Paddling through this sun charged algae is often a first time experience for travelers. We have heard it described as "fairy dust" and an underwater fireworks display. Our crew never tire of seeing it and guiding you on this fantastic experience.
"Thank you so much for the amazing experience! We have enjoyed our cruise so much! Kids are so happy and as too! We have learned so much within two days!...
"Awesome crew!!! Highly recommend The Rock Adventure!! Had our brothers surprise birthdays and the crew were ON!!! Views for days!! Loved the whole trip!!"
"We had a nice trip with the "Rock" team. The trip was really pleasant and relax. We had sufficient time to do all activities. Having...
"I went on the Rock about 6 years ago and had fantastic memories so decided to return when I was in Paihia this year. I certainly wasn't disappointed!...
"Friendly crew, fun activities, meet new friends, kids were so enjoyed. Fishing, kayaking, hiking, snorkeling, you must experience this, we are coming back....
All Reviews