Nicole
Crew
---
Kiwi girl born to seek adventure!
---
Nicole is another Kiwi who was born to seek adventure! She was born and raised in the heart of New Zealand's dairy farming region "The Mighty Waikato".
Her curiosity to explore led her to taking a gap year after high school to travel solo. Being drawn in by the excitement that adventure & travel brings to lives led Nicole to pursue and study Adventure Tourism.
Nicole grew up around boats over school holidays while younger and we're super excited that she has joined our crew to share with our guests her travel stories.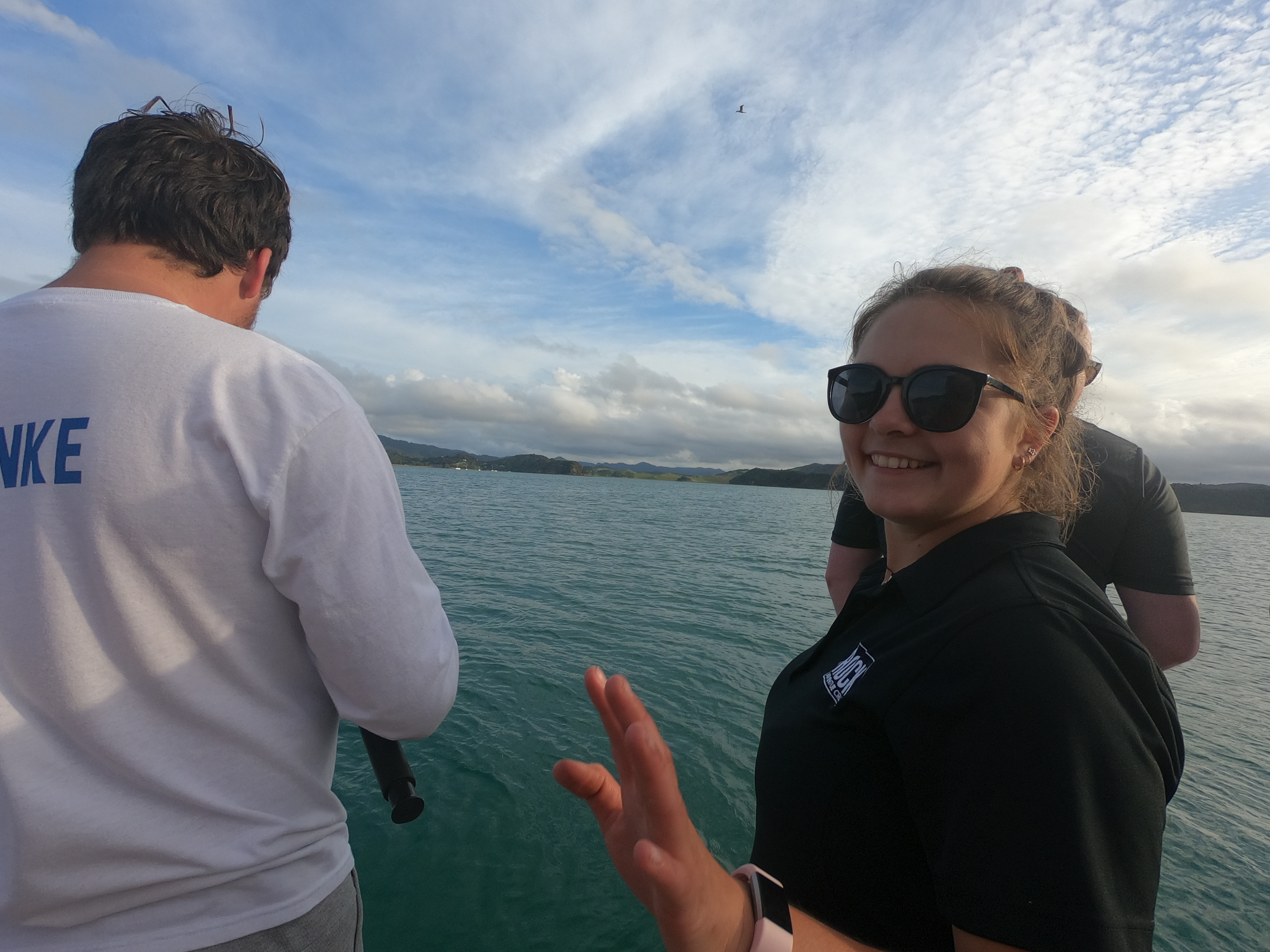 What do you love about working on the boat during the summer?
You cannot beat being out on the water while the sun is beaming. The sea breeze cools you down and the activities we do keep you active weather if it is swimming, kayaking or playing games on the beach.

What are your favourite activities to do on the boat?
Setting foot on the island to go and explore what the bay has on offer. Everyone gets involved even if it is connecting with the nature or setting up a game of bat down.

What have been some of your best/funniest memories?
My best memory, moment is when the dolphins come in for a surprise visit and feeling a excitement on the boat or when we catch an interesting species while fishing such as the john dory, sharks and stingrays.

What sets The Rock apart from any other experience in the Bay of Islands?
The relax setting, with a open plan rustic boat full of character creates a great space for small or large groups to enjoy their time out on the water. We interact with the guests getting to know the individual's creating friendships over a 22 hour period. The activities on offer cater for all abilities and never fail to create a laugh.
"To start the crew aboard was absolutely fantastic and easy going. Just having them be the leaders of our stay made it very relaxed as if you were traveling...
"The entire tour from start to finish was incredible. There was a constant stream of activities and you could pick and choose what you wished to do. We shot...
"Anyone considering this, consider no more and just book it! This was one of my first experiences solo travelling up in the north after a tour and as...
"13/10 experience. Highly recommended for all ages and types of travelers. We all had a great time & are planning another trip soon."
"The crew are wonderful and swimming in the fluorescent algae was one of the most surreal and beautiful moments of my life. Highly highly recommended!"
All Reviews